With a level of landline market development being low, the mobile sector in Burkina Faso is well developed. Cellular penetration is constantly growing, and due to the competition among local GSM operators, the country provides cheap local communication at an average rate of $0.15- $ 0.18. This opens up bright prospects for those who are engaged in terminating GSM traffic. However, you also need a stable and high-speed Internet connection to work efficiently.
To date, Internet penetration in Burkina Faso remains very low, which is 11% of the population and about 2.15 million connections. However, the indicator is growing, it is predicted that in the coming years the situation will improve. Therefore, from January 2016 to January 2017, the growth in the number of Internet users was 21%, which is another 373 thousand connections.
The cost of connecting to the Internet currently remains quite high, although since 2011 the tariffs have been reduced. The cost of Internet services was reduced due to the improvement of international bandwidth as fiber communication lines were installed to access to international submarine cables.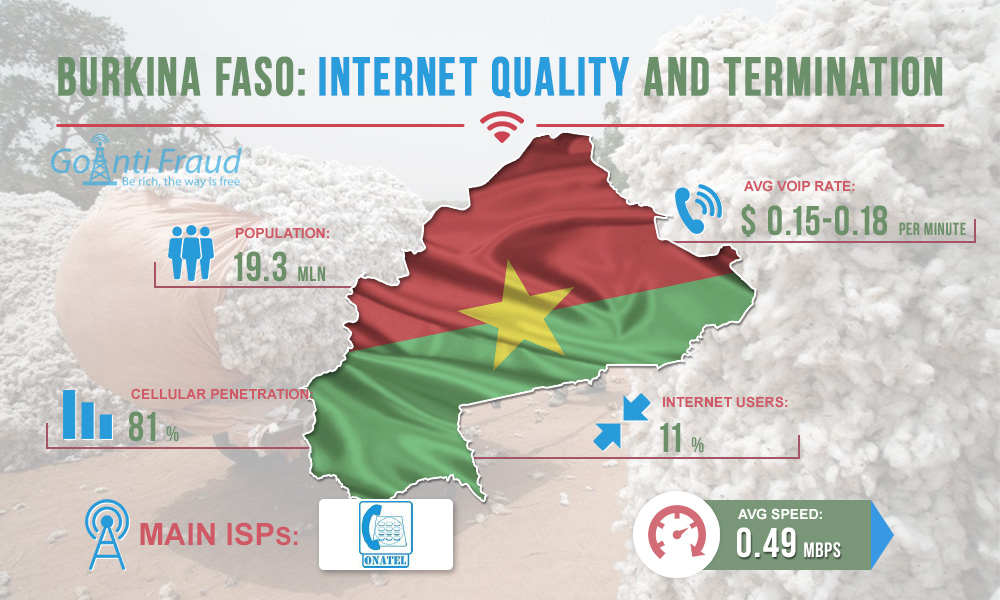 The leader in the market of Internet services is FasoNet, which Onatel owns. It provides access to the broadband Internet using DSL\EV-DO technologies, as well as offers a wireless fixed connection. Despite the fact that about 50 providers are licensed in the country, only 3 (ZCP, Cenatrin, and Businesscom Networks) compete with FasoNet. However, they have no more than 1,000 customers together. At the same time, because of the shortage of fixed-line infrastructure, GSM operators have become significant players in the Internet services sector, offering access to LTE technology.
The average download speed in the country is 0.49 Mbps. Burkina Faso ranks third in the list of countries in the world with the slowest Internet, as of May 2017 (after Yemen and Gabon). Nevertheless, in large cities, you can connect the Internet with at up to 50 Mbps. This will allow you to operate the GSM cellular gateway multichannel equipment.