Telecel Faso is owned by Planor Afrique, which operates in many West African countries. To date, it is the smallest mobile service provider in Burkina Faso, with a market share of about 19%. Nevertheless, the number of connections to this operator is about 2.7 million, while the originators offer an average of $ 0.18 per minute to terminate Telecel Faso traffic.
If you decide to use Telecel SIM-cards to run your VoIP call termination business in Burkina Faso, buy them from street vendors in order not to produce documents. The cost of the starting package is about 50-55 cents. You can also buy top-up vouchers on the street or at gas stations, in supermarkets and shops. The nominal value of scratch cards ranges from 500 to 20,000 francs CFA BCEAO (from 90 cents to 37 US dollars). Top-up vouchers from Telecel are called Mangos.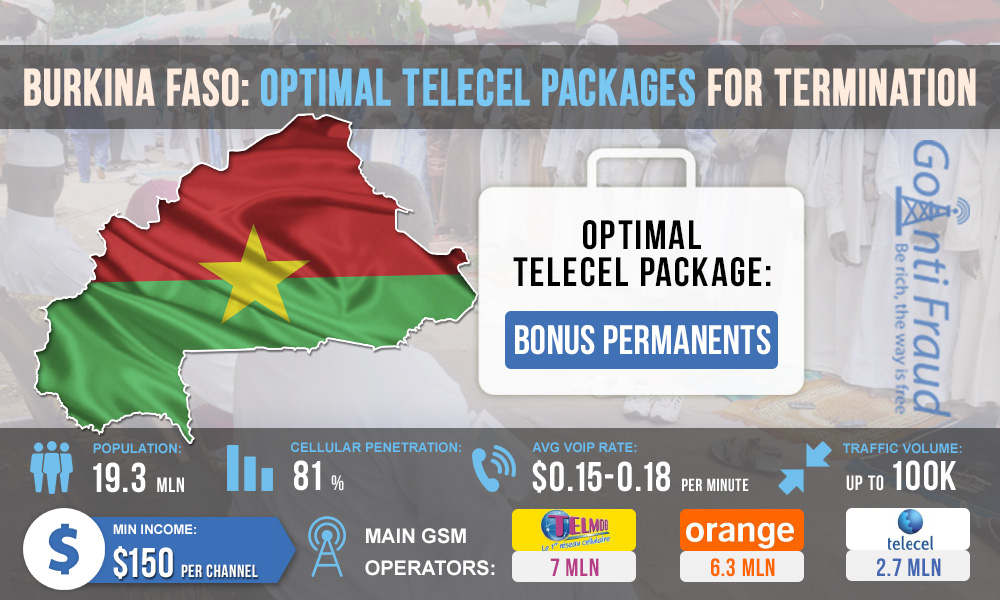 For prepaid subscribers, there is a per-second billing of outgoing calls ($ 0.002 per minute). The cost of a minute is about $0.12. There are two bonus offers: BONUS RECEPTION and BONUS PERMANENTS. BONUS RECEPTION provides bonuses for incoming calls, BONUS PERMANENTS bonuses for each account replenishment. Using the PERMANENT BONUS offer, certain bonuses are credited to the subscriber's account, depending on the amount of replenishment:
Topping up with 18 to 45 dollars, you get a 50% bonus;
Topping up with 45 to 90 dollars, you get a 60% bonus;
Topping up with 90 dollars or more, you get a 70% bonus.
The optimal solution for GSM termination is the PERMANENT BONUS offer. Topping up your account with $18, you get a $9 bonus. That is, your balance will get 25 dollars, which is enough for 200 minutes of calls. At the same time, one minute will cost $0.08. If you use a new SIM-card every day and terminate for 200 minutes, you will earn $ 350 via one channel of a goip-1 GSM VoIP gateway equipment. The use of multi-channel gateways will provide you with a higher profit.