The local telecommunications company Makedonski Telecom operates using the T-Mobile brand. Previously, the cellular operator was the leader in the mobile sector of the country, and today it takes the second place on the market after One.vip with a small gap in the number of connections: T-Mobile has about 1.14 million subscribers and One.vip 1.15 million subscribers. If you use T-Mobile SIM-cards for GSM termination, choose the most favorable tariff plan in advance.
GSM of T-Mobile covers almost the entire territory of Macedonia and is considered the best in the country. The operator's SIM cards are sold at $5.6 in branded stores, with an initial credit of $3.7- $4.7. Top-up vouchers range from 100 Macedonian denars, which is about 2 dollars.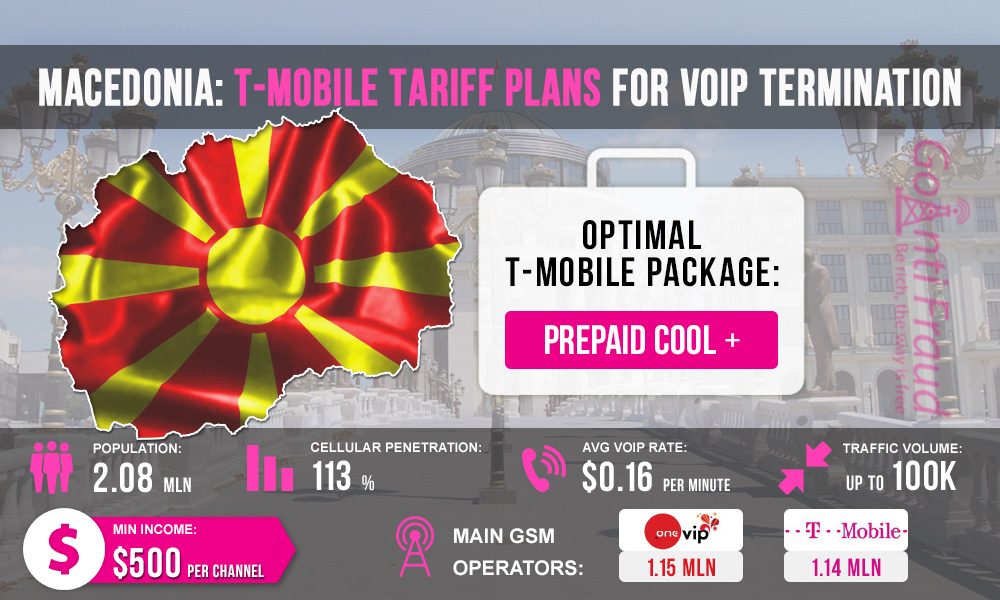 T-Mobile offers prepaid subscribers quite profitable tariffs. There are two packages to choose from:
Cool +. One minute of a call to the numbers of any operator costs as little as $0.04. The subscriber can make calls via this tariff within 30 days immediately after the account is replenished with a 100 MKD (over $2) voucher.
Easy. The package includes 3 tariff plans: Easy Top, Easy Talk, and Easy SMS that provide favorable conditions for using the mobile Internet, making calls, and sending SMS. In terms of termination, we are interested in the Easy Talk package. Topping up with 3 dollars, the subscriber gets the opportunity to call to preferred numbers at $0.02 per minute, as well as 50 bonus minutes for on-net calls on weekends.
The best option for termination of voice traffic is the Cool + tariff plan. When you top up your account with 2-dollar vouchers, you can call $0.04 per minute to the numbers of any operator. Terminating for 5 hours a day, you will make about $700 via 1 channel of a voip sip gateway. Using multichannel equipment, your earnings will increase substantially.