In the Russian Federation, there is the largest cellular market in Europe as the number of connections has exceeded 252 million, which is 176% mobile penetration. Due to the high competition among GSM operators, the country has rather low tariffs on local calls. This opens up wide opportunities for those who plan to do the termination of voice traffic in the Russian Federation.
Russian cellular subscribers use several SIM-cards, which explains the mobile penetration rate of 176%. As in China and the US, a purchased SIM-card can only work in a certain region where you purchased it. Outside, you will have to pay extra for calls, or the number will be blocked. This is important to consider when buying SIM-cards for termination. However, it is expected that from December 2017 the level of national and regional tariffs will be leveled.
The highest competition among mobile operators is observed in key Russian markets: in Moscow and St. Petersburg. This is due to the large area of these cities, as well as the high concentration of wealth in them. The prices for calls from the same operator fluctuate depending on the region. Therefore, when choosing a tariff plan, consider in which territory of the Russian Federation the SIM-card will be used. In the Moscow region, the highest tariffs on calls in the country.
To date, there are four major GSM operators in Russia:
MTS (more than 100 million subscribers);
MegaFon (more than 74.5 million subscribers);
Beeline (more than 57.6 million subscribers);
Tele 2 (more than 38.4 million subscribers).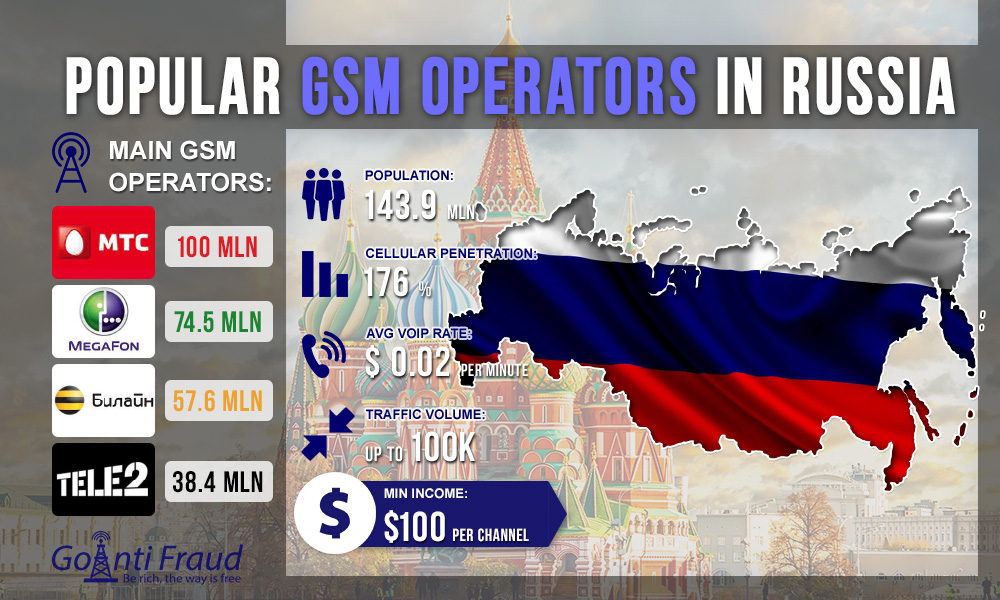 MTS is the country's largest mobile operator as of 2017, which provides services in all 83 regions of the federation. MegaFon has the best GSM coverage in the country but it has the highest prices for services. The international company VEON operates under the Beeline brand in Russia. To date, Beeline ranks 3rd in the Russian market and provides services in 78 regions. Tele 2 is on the fourth place. Rostelecom owns the brand. It operates in 60 regions of Russia.
In the country, there is also a virtual operator Yota. The MVNO uses the infrastructure of MegaFon and is a subsidiary of the latter. Yota is more focused on providing services for access to LTE networks, although it also offers voice services.
Before you place your VoIP equipment and install GSM VoIP gateway software in Russia, you need to determine the region of the country. Russia is a huge country with a federal system. Each region has its own tariffs for mobile communications; in addition, AntiFraud systems of GSM operators work differently in different cities. It is known that in the largest cities (Moscow and St. Petersburg), as well as throughout the Moscow region, there is a particularly tough antifraud that blocks SIM-cards very quickly.