Latin American countries attract many terminators as there is virtually no competition in the region and the mobile sector is well developed. Today, we will talk about what opportunities are opening up to make money on termination in Bolivia. How much do SIM-cards cost and how to buy them? Which GSM operator should I choose? These and other nuances will be discussed in this article.
Despite the fact that in Bolivia in recent years there has been strong economic growth, GDP remains one of the lowest in Latin America. Many areas in the country are poor and undeveloped, and part of the local population lives in remote areas where there is no telecommunications structure. In this regard, the penetration of telecommunications services in Bolivia is quite low.
Nevertheless, the country has a fairly well developed cellular communications service sector. Mobile phones in Bolivia are ten times more than landlines. Fixed telephone communication is actively replaced by cellular communication. To date, the leading player in the mobile sector is the state GSM operator Entel Movil, whose subscriber base is more than 5 million. On the market, there are also two major cellular companies: Tigo (the brand is owned by Millicom International) and Viva (owned by NuevaTel). More than 3 million people use Tigo services, about 2.2 million Viva services.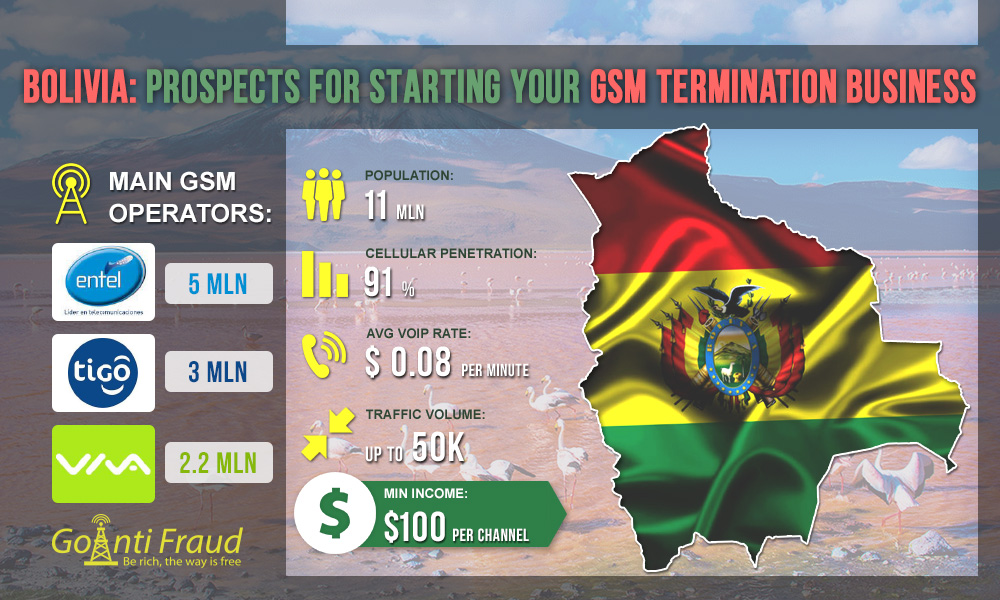 To use the SIM-card in Bolivia, you must register the number and produce a passport in the shop of the operator. However, there is an opportunity to purchase starter packages through dealers or by contacting street vendors. The average cost of a SIM-card is $1.45. The standard tariff for outgoing calls is 17 cents per minute, which is very expensive for termination but at night the cost of a minute drops to 6 cents. In addition, some operators offer rates for various packages on a prepayment basis that are more favorable.
Average VoIP termination rates on termination services in the direction of Bolivia are about 8 cents per minute. Picking up a profitable tariff plan, you can make over $100 per gateway channel.