Tele2 is the smallest mobile operator in Croatia. Nevertheless, its subscriber base consists of more than 2.2 million users, with its GSM covering 99% of the country's territory. To use Tele2 SIM-cards for your GSM gateways, it is necessary to choose the optimal tariff plan.
The Tele2 starter pack is called "Start Pack" and sold in the company's branded shops, in post offices, at gas stations, in supermarkets, etc. The cost of the subscriber number is about 7-9 dollars. At the same time, the new SIM-card is immediately connected to the basic tariff plan on a prepayment basis (Tvoja Slagalica), so you get a bonus of 200 minutes or 1,000 minutes for calls (in the first case, the card will cost $7, in the second $9).
In the future, the monthly fee for using this package will be the same 7-9 dollars. However, the card that takes part in terminating traffic, on average, "lives" 3 days before it gets blocked. You can use the new start packages every three days, terminating 300 minutes a day. If you select the SIM-card for $9 with 1,000 bonus minutes. Then one minute will cost you as little as $0.009.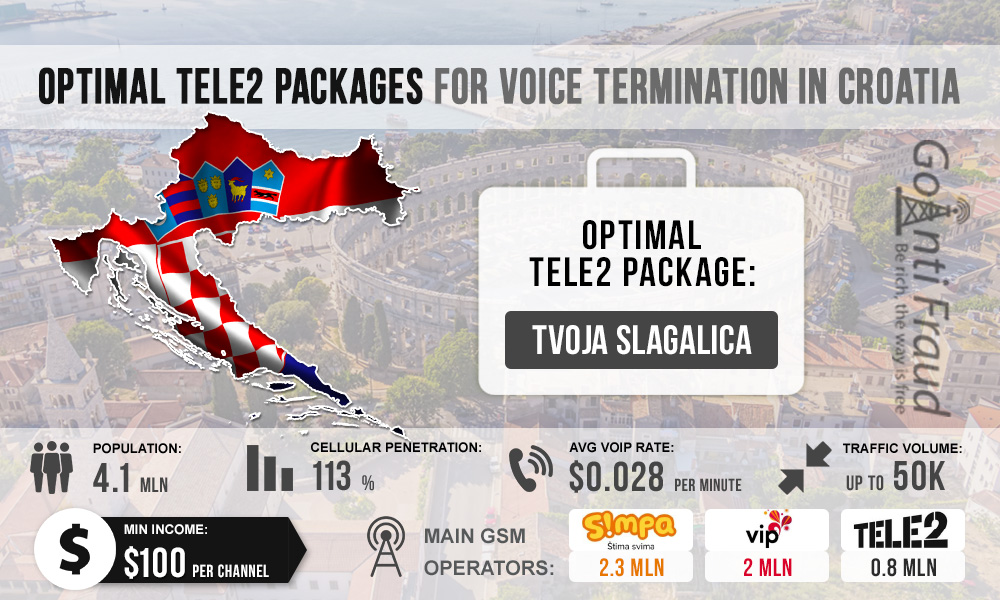 Tele2 also offers other prepaid packages:
ČISTO TRISTO. Provides 300 bonus minutes and SMS; the subscription fee is $8.7 a month.
TARIFA RASPALI. Unlimited calls. The subscription fee is $13.4 a month.
In order to efficiently handle VoIP traffic termination, it is best to choose the Tvoja Slagalica tariff plan. To do this, you need to buy a SIM-card for $9. Your account will immediately get 1,000 bonus minutes, which can be used within 3 days. Accordingly, when you have your gateways running for 300 minutes every day, you will be able to make about $100 per channel.