In Bolivia, the Viva network is managed by Nuevatel PCS. Viva operator is the smallest in the country as its share in the market is 27%. Nevertheless, its subscriber base is quite large. It consists of more than 2.2 million users. In addition, the operator provides cellular services at minimum rates, and this is exactly what you need for doing a profitable VoIP GSM termination.
Prepaid Viva SIM cards cost $1.45 and provide for an initial credit of the same amount. To activate the number, you need to make a call to number 100. Top-up vouchers are available in stores, supermarkets, and at gas stations. Thanks to the initial credit, your business expenses for the purchase of new SIM cards become actually next to nothing.
Prepaid customers can use the Prepago Viva offer. The package is connected to the new SIM-card by default and provides the following rates on calls:
NORMAL. One minute costs $0.21, from 7 a.m. to 9 p.m.
REDUCIDA. One minute costs $0.14, from 9 p.m. to 1 a.m.
SUPER REDUCIDA. One minute costs $0.1, from 1 a.m. to 7 a.m.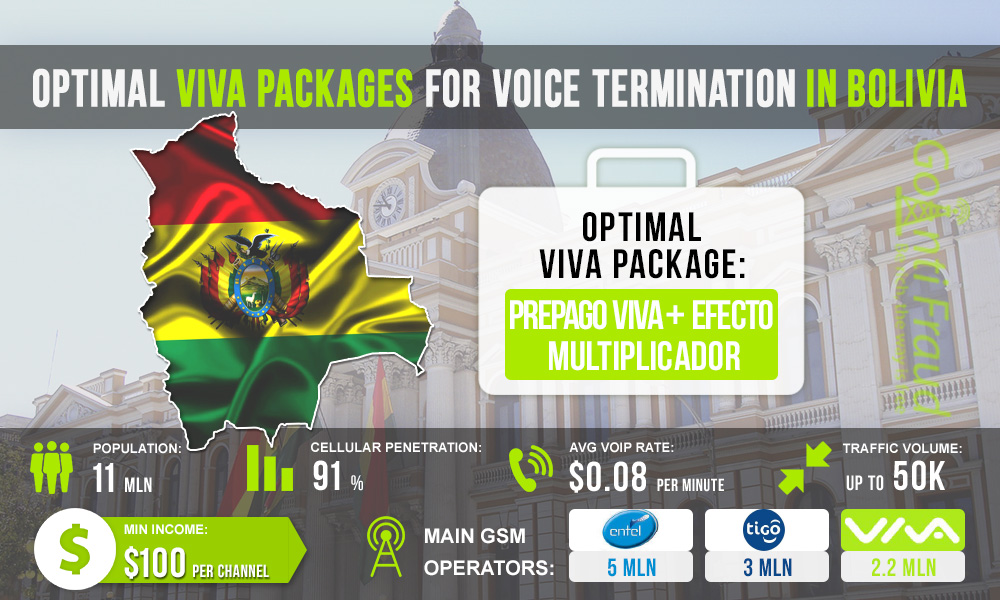 To terminate voice traffic, select the minimum tariff (REDUCIDA or SUPER REDUCIDA) and redirect calls at the designated time of day. You will immediately have a credit of $ 1.45 available on the card, and you can use the additional offer EFECTO MULTIPLICADOR. This offer provides bonuses of 30-50% for each top-up.
To terminate 300 minutes a day, you need to spend about 30 dollars a day. Use the initial credit and top up the account with $20 to get additional bonuses. Accordingly, one minute of the call will cost you $0.06. Your income will be about $100 per channel if you have your voip gsm gateways sip operating for 5 hours a day.