In the Philippines, the mobile market shows steady growth in recent years. With a population of 105.4 million people, mobile penetration reached 129%. This opens up wide opportunities for those who decided to terminate voice traffic in the country. The average rate for this direction is $0.05- $0.08, while the rates for local calls are minimal.
The key factor in the growth of the mobile market in the Philippines was the fact that cellular communications proved to be much more efficient than fixed telephony from the point of view of adaptation to the peculiarities of geographical location. To date, 2G networks cover all inhabited islands.
The peculiarity of the cellular communications market in the Philippines is the duopoly of Globe Telecom and Smart, which are major GSM operators in the country. In recent years, competition between the two giants has significantly increased, which resulted in a reduction in tariffs. At the moment, operators offer favorable pricing for calls for prepaid customers, including those within unlimited packages. Using prepaid offers, the terminator can minimize the cost of outgoing calls, with one minute being up to $0.001.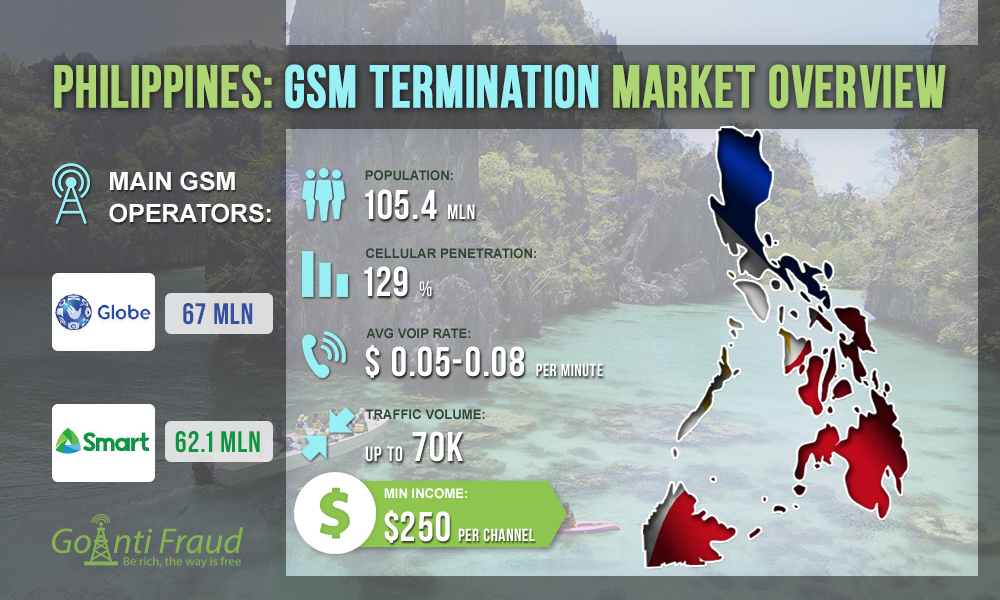 Globe currently leads the market as its subscriber base consists of 67 million mobile users. The gap is small as more than 62.1 million people use Smart services. Globe owns brands Cherry Prepaid, Touch Mobile, and ABS-CBN. The structure of Smart includes Sun Cellular and TNT.
Prepaid SIM-cards in the Philippines are cheap: about $0.80 per piece. There are no formal requirements for the verification of the identity when you buy a starter package but you can be asked to produce documents in the branded shops of operators. Therefore, it is better to buy cards in kiosks on the street. When installing gsm gateway hardware in the Philippines, the terminator can earn over $250 via a single channel of equipment.