Placing VoIP equipment for termination in the Philippines allows you to earn at least $250 per channel. The country with a population of more than 105.4 million people has a 129% mobile penetration. With minimal rates for local communication and an average of $0.05- $0.08 per minute, the Philippines attracts many terminators. To get maximum profit, you need to choose the best tariff plan for outgoing calls.
The largest GSM operator in the Philippines is Globe Telecom; its only competitor is Smart, a local company. To date, the Globe subscriber base consists of 67 million users. At the same time, most residents of the country use SIM-cards of both operators simultaneously, which explains the huge number of connections.
Prepaid SIM-cards from Globe can be purchased in the Philippines at almost every corner. The cost of the starter package is as little as 78 cents. Top-up vouchers are available throughout the country. Many advantageous offers for voice communication are available to prepaid subscribers. They are:
GoCall 100. Provides 500 minutes for on-net calls and is valid for 7 days. The subscription fee is $1.94 (100 Filipino pesos).
SuperDuo. You can make unlimited calls to Globe/Touch Mobile numbers. The package is valid for a month. The subscription fee is $11.6.
Super Sakto Calls. Provides per-second billing of calls. The cost of a second of the on-net call is $0.002. The subscription fee is 15 cents.
Tawag 326. Includes bonus 20 minutes, which can be used to make calls to Globe numbers, and 20 more to make calls to TM numbers.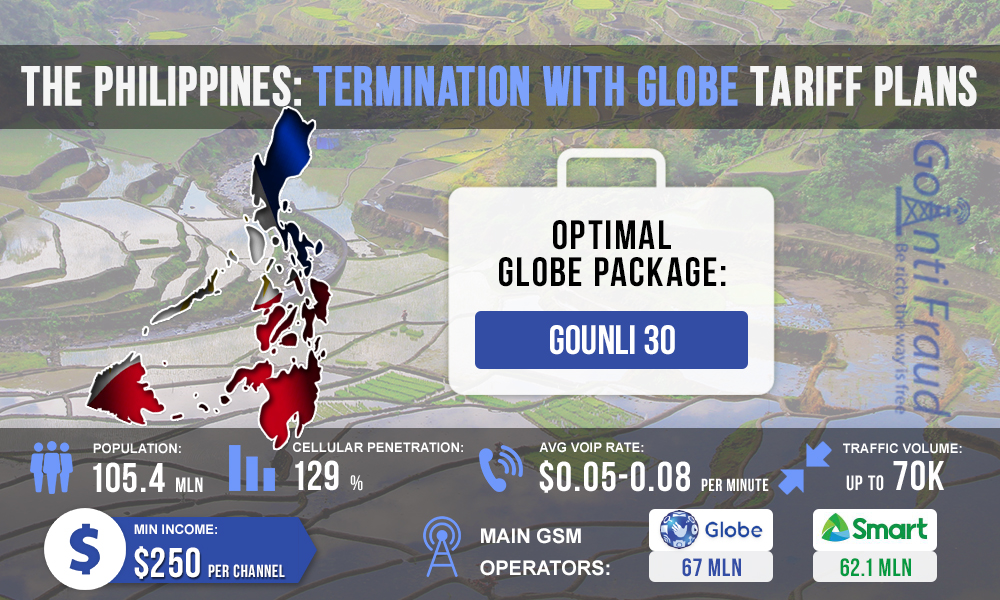 Prepaid subscribers are also offered a GoUnli Promos line:
GoUnli 20. Unlimited calls to Globe and Touch Mobile, valid for 1 day. The cost is 39 cents.
GoUnli 30. Unlimited calls to Globe and Touch Mobile, valid for 2 days. The cost is 58 cents.
GoUnli 50. Unlimited calls to Globe and Touch Mobile numbers, valid for 3 days. The cost is 1 dollar.
The optimal option for terminating calls is GoUnli 30. In two days, you will be able to maximize the use of the unlimited package until the SIM-card is locked. If you have your gsm voip gateway equipment operating for 5 hours a day in the Philippines, you will earn over $280 per channel via GoUnli 30. There are no traffic problems in this direction as it is a large country that has a population of 105.4 million people who constantly make calls.