To make your VoIP GSM termination business bring you a stable profit, it is important to provide a reliable Internet connection. To date, the Philippines is experiencing a moderate growth in the Internet services market, both in the broadband access sector and in the mobile data services sector. The overall penetration rate of the Internet is 55.5%, which is about 57.6 million connections.
The following types of connections represent the broadband Internet access in the Philippines:
DSL;
Cabel;
FWA;
WiMAX;
LTE;
Fiber-Optic.
In the Philippines, there is a well-developed mobile Internet access sector. Telecommunication companies use LTE-Advanced technologies for faster data transfer. By 2020, it is planned to move from 4G networks to 5G.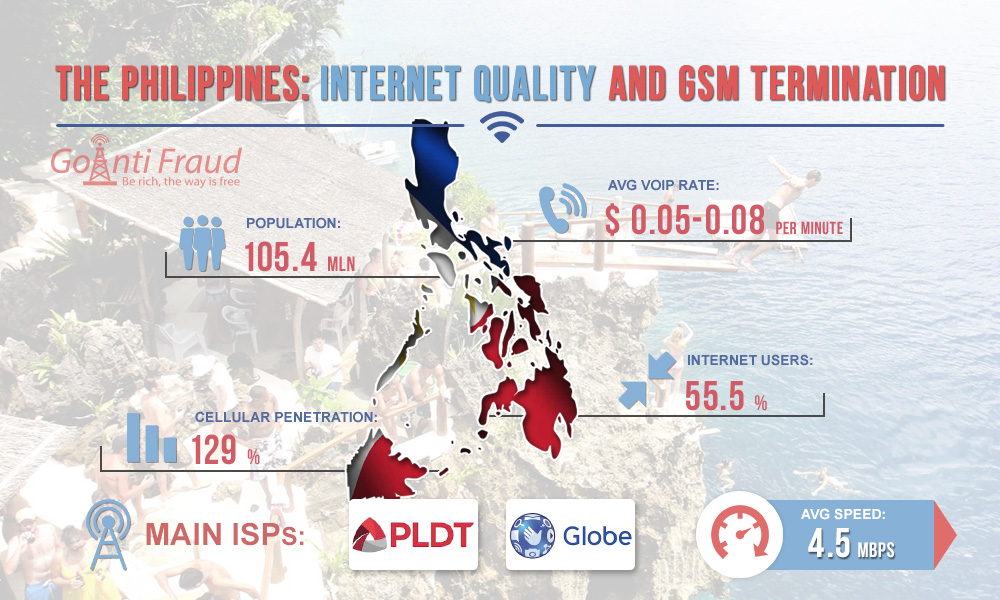 In addition, there has been significant progress with the deployment of fiber-optic infrastructure. The DICT (Department of Information and Communication Technologies) has developed a plan for introducing fiber-optic technologies throughout the country.
As for the speed of the Internet, the average figure is 4.5 Mbps. In 2017, the Akamai Intelligent Platform published a report according to which the Philippines has the lowest average Internet connection speed in the world. The report also indicates that the country has the potential to improve the situation. Despite the record low, in the Philippines, it is possible to connect fiber-optic Internet at speeds up to 100 Mbps.
We recommend placing VoIP equipment and configuring gsm modem gateway software for termination in one of the major cities of the country so that you can use a stable and high-speed Internet connection.