Virtual operator Bonbon operates via the T-Hrvatski Telekom network. The prepaid packages offered by the operator are excellent for making money on termination. In order to maximize your profit, you need to choose the tariff plan that offers the most favorable terms for the subscriber.
Bonbon SIM-cards can be bought both in branded stores and regular supermarkets, in street kiosks of iNovine, Tisak, and at gas stations. There is also an opportunity to order a starter package online, with delivery to any European address. Bonbon SIM-cards are not sold in T-Mobile branded stores.
The starter package costs about $3, with the same amount provided as a bonus credit for each customer. Money can be used for outgoing calls. Accordingly, your expenses on the purchase of SIM-cards will cost next to nothing. Activation of the number occurs immediately, with no registration required.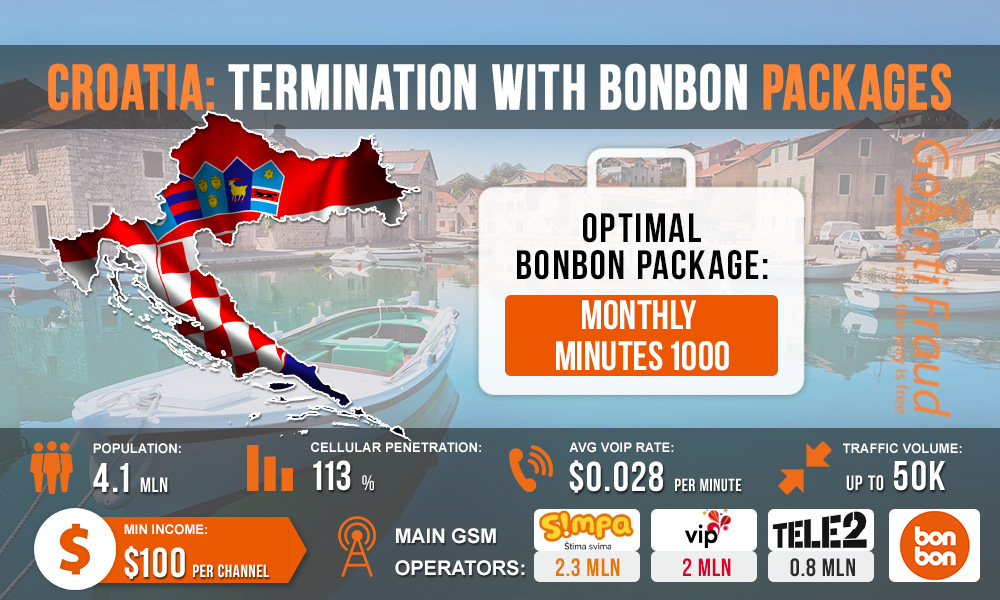 The standard tariff for calls is $0.14 per minute, which is very expensive with an average rate of $0.028. However, Bonbon offers pre-paid customers prepaid rates within MONTHLY PACKAGES MINUTES. Packages are valid for 30 days. There are several options:
80 minutes for on-net calls at $2.3 per month.
300 minutes for on-net calls at $4.6 per month.
1,000 minutes for on-net calls at $6.2 per month.
1,000 minutes to make calls to the numbers of other operators at $8.5 per month.
The best option for re-filing is MONTHLY PACKAGE MINUTES 1000. Using the tariff plan, one minute will cost you $0.006. 1,000 minutes will last for 3 days of work, which you will have time to use before the SIM-block happens, with the average lifespan of the subscriber number being three days. Using MONTHLY PACKAGE MINUTES 1000 along with a voip call termination system, you will earn about $120 via each equipment channel.