Robi Airtel is the second largest GSM operator in Bangladesh as 32.2 million subscribers use its services. It was founded due to the merger of Robi Axiata and Airtel in 2016. SIM-cards of this operator are perfect for terminating calls. The article will help you learn about the most profitable offers of Robi Airtel for prepaid customers.
You can buy three types of starter packages: Regular Package, We Are Tigers, and Nood in the operator's branded stores or in the kiosks on the street. The optimal choice will be the Regular Package because We Are Tigers is designed for cheap communication for several selected numbers, and Nood is focused only on Muslims as it provides different content for those who preach Islam, make donations, etc.).
The cost of the Regular Package SIM-card is $2.4. As a welcome bonus, the user gets 6 cents and 50 free SMS. If you top up your account with $0.35, the subscriber gets the opportunity to make on-net calls at minimum rates ($0.005 per minute for on-net calls and $0.01 per minute for calls to the numbers of other operators).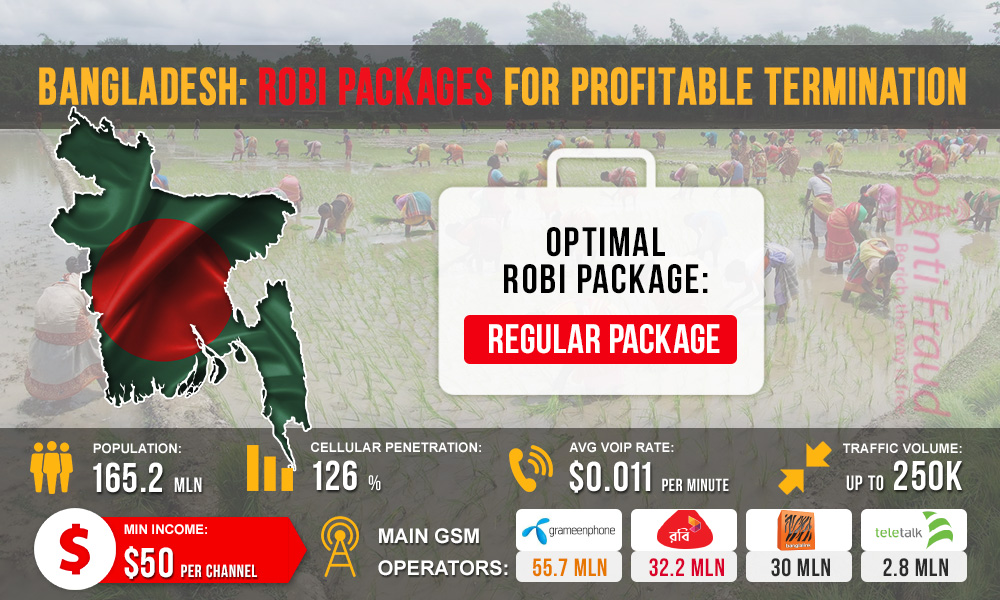 Robi Airtel offers several prepaid calling plans, among which the most profitable is Hoot Hut Chomok 32. Switching to this package is free of charge. The cost of the on-net call is $0.01 per minute, and $0.02 per minute for calls to the numbers of other operators.
In addition, the operator has a line of bonus Voice Bundle packages. Each of the tariff plans provides for a certain number of bonus minutes for a fee. The best option for voice termination is Voice Bundle Monthly. After paying $4.4, you will get 500 minutes for calls. You will have enough minutes to terminate calls within 2 days, just before the SIM-card is blocked.
Robi Airtel has many advantageous offers for prepaid subscribers but the best option for GSM termination is Regular Package. Using it, one minute costs $0.005 per minute. In Bangladesh, Voip business rates are low ($0.11 per minute) but SIM-cards are not blocked too often. With the proper construction of logic, one number can last 2 days, on if you have your gateway running for 8 hours a day.