Bangladesh is considered a promising route for VoIP termination since impressive amounts of traffic are concentrated here. However, for normal operation of VoIP equipment, you need a stable Internet connection. We will tell you about the Internet market in Bangladesh.
To date, the penetration rate of the Internet in the country remains low, in comparison with international standards. Nevertheless, over the past 5 years, the number of Internet users have significantly increased, due to the growing popularity of mobile access. As of June 2017, the Internet penetration in Bangladesh reached 44.5%, which is more than 73.3 million connections.
At the same time, the broadband access market is experiencing its early development stage. In Bangladesh, the penetration rate is lower than in other Asian countries. This is due to the prevalence of mobile Internet services and the limited availability of the fixed broadband (due to the reduction in the number of fixed telephone lines). Nevertheless, the broadband sector is expected to grow further until 2020.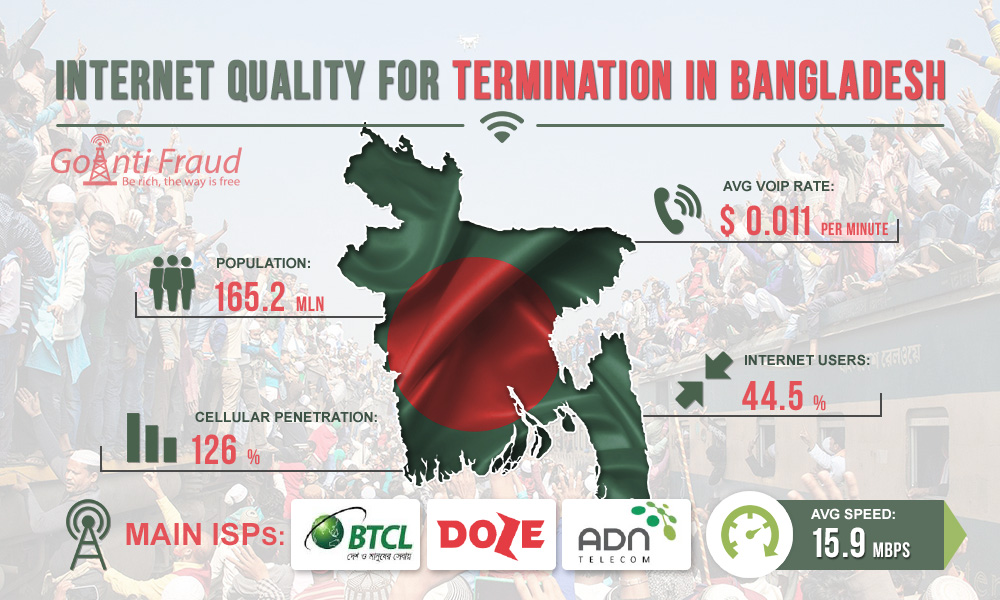 The country has access to the fiber optic Internet. In 2017, the local government developed a project to expand fiber-optic networks. Its goal is to provide another 25-30% of the population of Bangladesh with access to the high-speed Internet, through the coverage of remote areas.
A lot of Internet providers work in Bangladesh. The most popular ones are BTCL, Doze Internet, and ADN Telecom. Regarding the download speed, its average rate is 15.9 Mbps: Bangladesh ranks 78th in speed among 133 countries in 2017. In Dokka (the capital and the largest city of Bangladesh), it is possible to connect the Internet at speed up to 1 Gbps, which will allow you to use a gsm gateway umts router with any number of channels.