The population of Yemen is more than 28.4 million people, so there are quite large amounts of voice traffic here. The average rate for this direction is $0.06- $ 0.07 per minute, with sufficiently low tariffs for local communication. By providing an alternative route to terminate international calls in Yemen, you can make $200 per channel.
The military operations in Yemen caused serious damage to the local telecommunications infrastructure. Prior to civil unrest, the government had made great efforts to modernize and expand the telecommunications sector. However, penetration rates today are among the lowest in the Arab states, reflecting the plight of Yemen.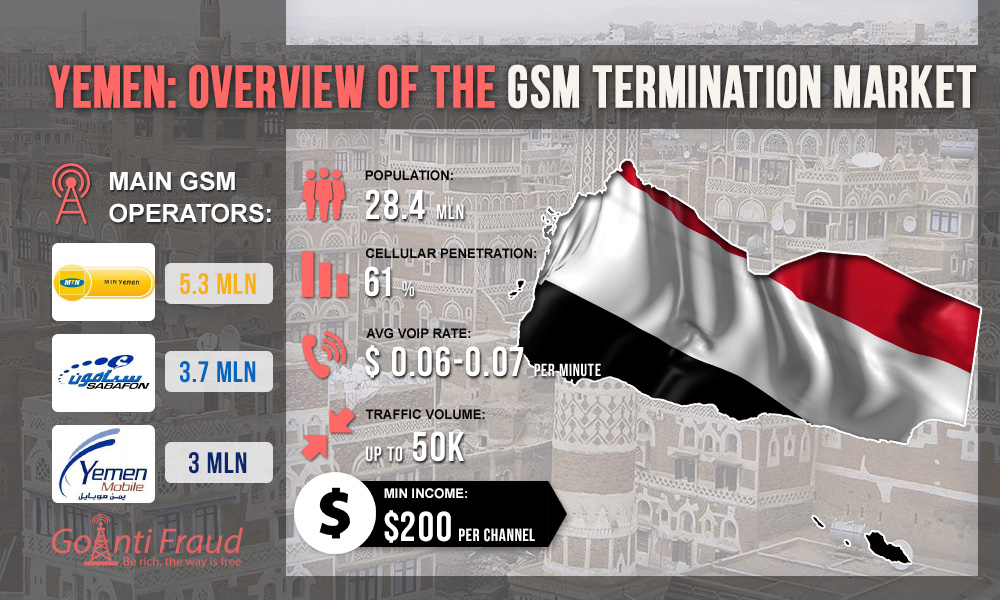 Nevertheless, the country has significant growth prospects for telecommunications. In particular, mobile penetration has reached 61%, which is more than 17.5 million connections. Most subscribers use prepaid services. There are several mobile operators in the country. The major ones are MTN Yemen, Sabafon, and Yemen Mobile.
Transit operators offer an average of 50 thousand minutes for termination in Yemen. A new SIM-card costs about $1.4, with a subscriber getting a credit of $0.8 immediately. Tariffs for calls are quite low: about $0.03 per minute. With average mobile voip rates yemen of $0.06- $0.07, you can earn at least $200 via each channel of equipment.