With an average rate of $0.06- $0.07 per minute in Yemen, the terminator can earn over $200 via one channel of equipment. The main thing is to choose the most profitable package for terminating calls. We will tell you what prepaid offers Yemen Mobile provides.
Prepaid services Yemen Mobile has to offer are called Prepaid System. The cost of the SIM-card is $1.4 while the subscriber immediately gets the opportunity to dispose of the bonus balance of $0.8. Accordingly, the starter package for the termination costs as little as 60 cents.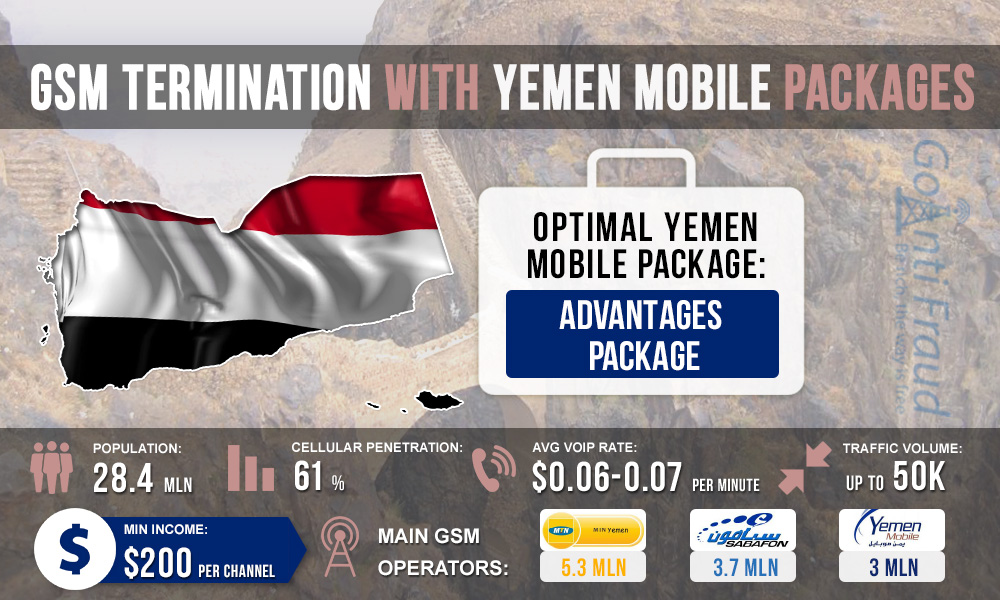 The standard tariff for calls within the Yemen Mobile network is $0.03, as well as it is $0.08 to make calls to the numbers of other operators. In addition, the operator offers several advantageous packages for prepaid customers. The following packages are the most suitable for traffic termination:
Advantages Package. The subscription fee is $4 a month while a customer gets 300 bonus minutes for calls and 100 free SMS.
Welcome to all people. The subscription fee is $1.2 a month. A customer can call any numbers for as little as $0.03 per minute.
The optimal choice for voice termination is Advantages Package. Using it, one minute of the outgoing call will cost you as little as $0.01. Originators offer an average of $0.078 per minute to terminate traffic provided by Yemen Mobile. When you have your gateway and voip gsm software running for 5 hours a day, your profit will be at least $370 via each equipment channel. If you use multiport gateways and properly protect your SIM-cards from antifraud systems, you will be consistently earning impressive amounts.