Airtel is the largest mobile operator in Gabon. Its SIM-cards are perfect for terminating calls. The cellular service provider offers favorable conditions for prepaid customers. Originating companies pay an average of $0.21 per minute for terminating Airtel traffic, which allows you to earn at least $150 per channel.
The Airtel SIM-card is called New SIM and costs about $0.90. The subscriber gets a triple bonus for the first topping up of the account. You can also take advantage of the Double Credit offer, which operates on a permanent basis and provides for doubling the amount at each top-up. The standard tariff for outgoing both on-net calls and calls to numbers of other operators is $0.2 per minute.
Airtel has several Combo packages to offer, which include minutes for calls, SMS and Internet traffic. They are:
Airtel Nuit. For $0.7 per day, the subscriber gets 10 bonus minutes.
Meli Melo. The line includes 4 packages: Meli Melo 1 (7 minutes for $0.53), Meli Melo 2 (15 minutes for $0.9), Meli Melo 3 (35 minutes for $1.8), Meli Melo 7 (60 minutes for $3.5).
Min'Max. Includes 3 tariff plans for 1 month: 3H (200 minutes with a subscription fee of $17), 9H (540 minutes with a subscription fee of $44), 16H (1,000 minutes with a subscription fee of $53.7).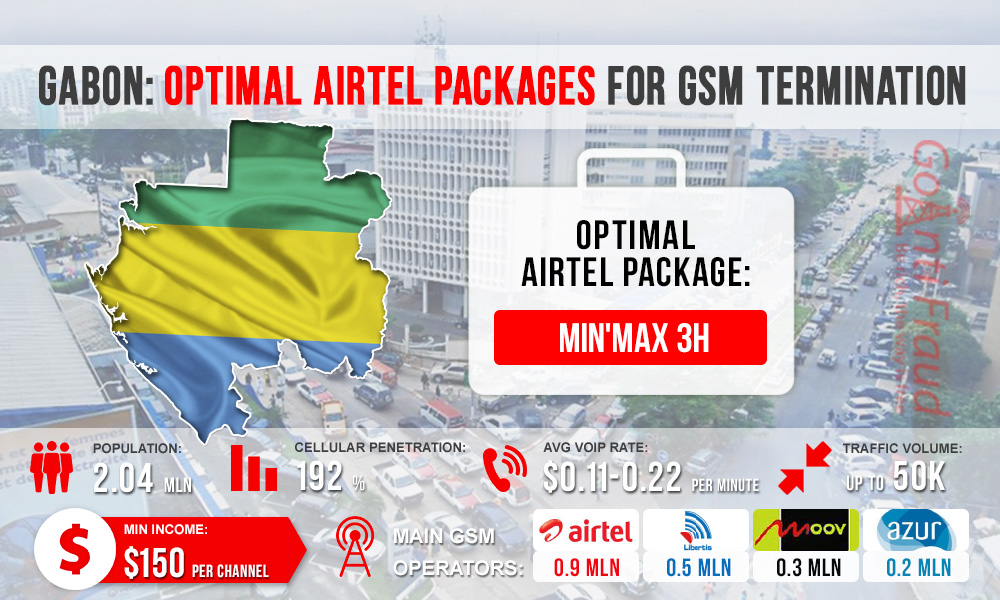 The best choice for voice termination is the Min'Max 3H package. Using it, the minute of the outgoing call will cost you $0.08. The income per month will be about $450 per channel if you terminate 200 minutes a day.
Remember that in countries with high rates, anti-fraud systems operate intensively and block SIM-cards quickly. We recommend using the capabilities of the GoAntiFraud service to simulate human behavior in GSM networks. We also provide voip mobile software to remotely control your equipment from anywhere in the world.