Telenor is the largest provider of cellular communication services in Montenegro. Transit operators offer an average of $ 0.15 per minute to terminate Telenor traffic in this direction. If you pick up a favorable tariff plan for outgoing calls, you can make at least $100 per channel, doing GSM termination.
Telenor covers 98% of the territory of Montenegro. SIM-cards are sold in the company's branded shops, in airports, in tobacco stalls on the street. The starter package "All in one" costs $3.5 and provides for an initial credit of the same amount. By default, the Start tariff plan is connected to it. Making on-net calls and calls to the numbers of other operators will cost you $0.14.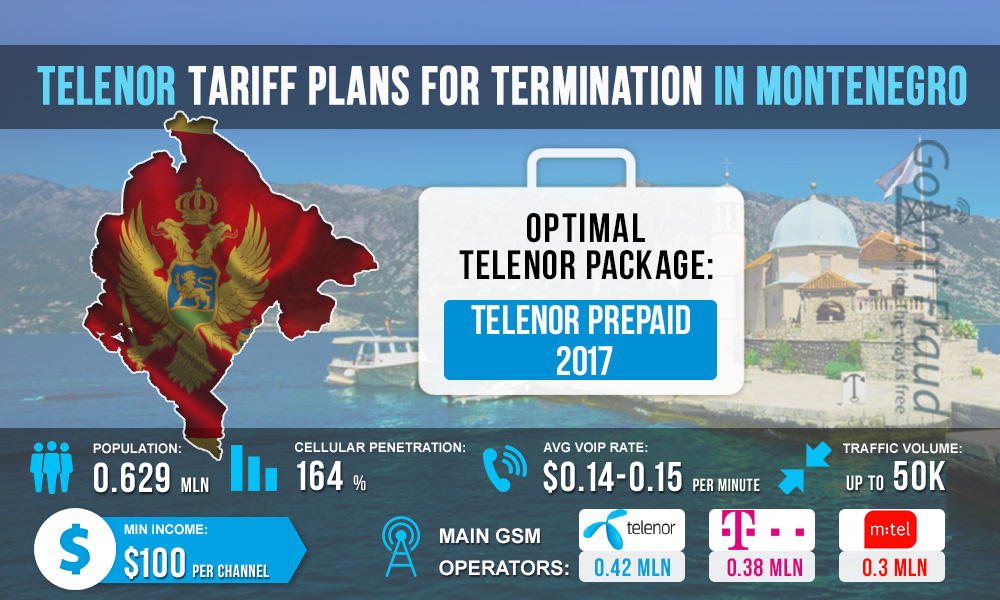 There are also Telenor Prepaid 2017 starter packages, which allow you to activate the Telenor besplatno application. The cost of such a package is also $3.5. The application provides for 100 bonus minutes for calls to other operators' numbers, 1,000 minutes for calls within the network, and bonus 10 GB of traffic. The standard rate for calls is the same $0.14 per minute. The promotional offer is valid until April 2018. Bonuses are valid for 7 days.
Telenor Prepaid 2017 is the optimal choice for terminating voip sip mobile traffic. Using this package, you will spend money to buy the SIM-cards only. Terminating 300 minutes a day, you will be able to make about $800 via one channel of equipment. If you are going to use GSM gateways equipped with a large number of ports, your income will grow. The main thing is to properly protect your SIM-cards against locking by AntiFraud systems.