Gabon is a profitable direction for voice termination with an average rate of up to $0.22 per minute. Mobile penetration in the country is 192%, which means that local people use several SIM-cards to make calls. Prices for local communication are minimal, and this allows you to earn at least $150 per channel on the traffic termination. The main thing is to choose the optimal package for calls.
Libertis is the second largest mobile operator in the country. Its starter packages will allow you to effectively and favorably terminate international calls. SIM-card in Gabon costs about 1 dollar. Libertis has a lot of offers for prepaid customers:
Prepaye One. The tariff plan provides for per-second billing of calls. The cost of a minute of the call is $0.21, including both on-net calls and calls to the numbers of other cellular operators.
Heures Libertis. A range of packages that include bonus minutes for calls. You can get 8 minutes for $0.52, 15 minutes for $0.87, 35 minutes for $1.73, 60 minutes for $3.46.
Yes week-end. The unlimited tariff plan that is valid on Saturdays and Sundays. The cost of connecting the service is $3.46.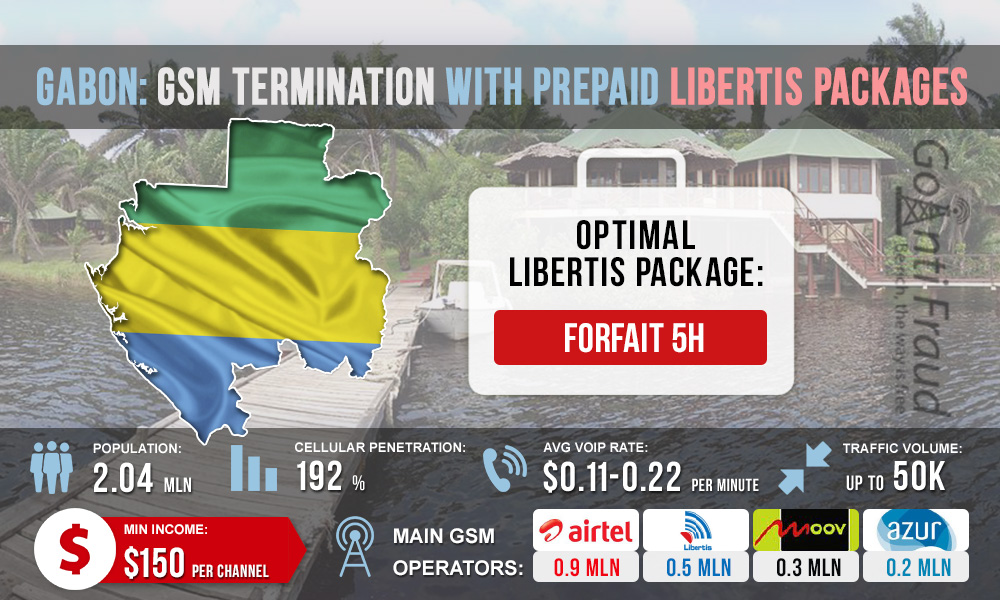 Libertis also offers prepaid subscribers a line of combined packages, designed for 30 days. They include minutes for calls, mobile Internet traffic, and bonus SMS. There are 4 packages (Forfaits maitrises):
2H. The subscriber gets 120 minutes for calls, the subscription fee is $17.3.
3H. The subscriber gets 180 minutes for calls, the subscription fee is $24.24.
5H. The subscriber gets 300 minutes for calls, the subscription fee is $34.6.
8H. The subscriber gets 480 minutes for calls, the subscription fee is $52.
It is advantageous to use the Yes week-end package to terminate calls but it operates only on weekends. Therefore, the best option for earning on termination is Forfait 5H. Using it, one minute of the outgoing call will cost you $0.11. With an average rate of $0.2 per minute, you will make at least $450 via 1channel of gsm gprs gateway if you have the equipment running for 300 minutes a day.