The local company Crnogorski Telekom operates under the T-Mobile brand in Montenegro. The operator has excellent GSM coverage across the country and is the main competitor of the market leader Telenor. T-Mobile has many advantageous prepaid offers, which can be successfully used to terminate voice traffic.
T-Mobile SIM-cards are sold in the operator's shops and in kiosks on the street. At the same time, it is necessary to register a number in the company's communication salon. Therefore, to do termination, you need to find cards registered in other people's names. Prepaid starter packages are called Telekom Prepaid and cost $5.8, with $1.1 available on the account. By default, the tariff for calls to any network is $0.21 per minute. It is also possible to order a SIM-card online on the operator's website. Top-up vouchers are available in denominations starting from 5 euros ($ 5.8).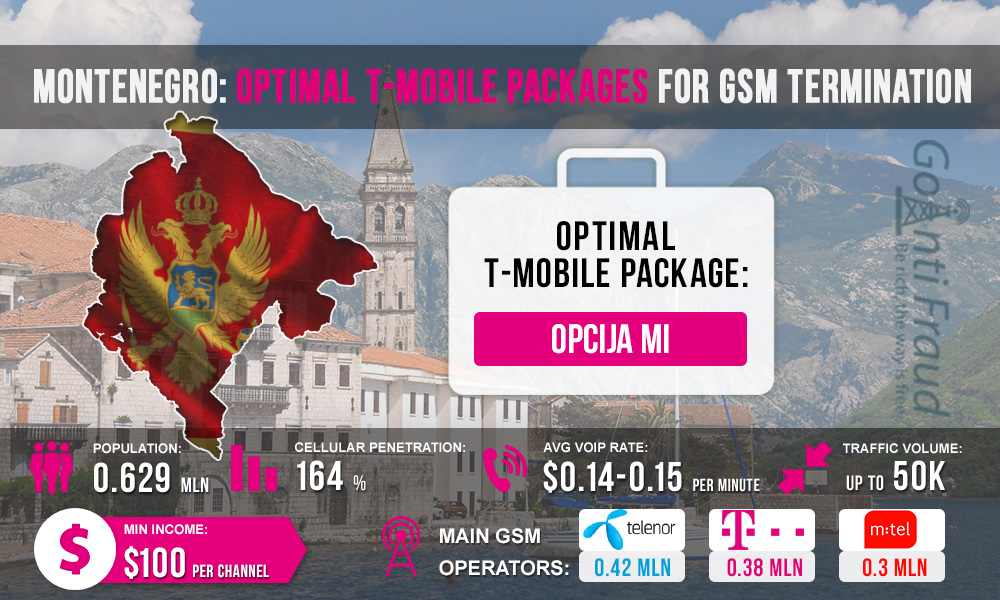 The tariff of $0.21 per minute is expensive for terminating calls, with an average rate being $0.14 - $0.15. But T-Mobile offers several advantageous packages that cost as little as $3.4:
OPCIJA MI. The subscriber is given 500 minutes to make on-net calls.
OPCIJA SVI. Provides 100 bonus minutes for calls to the numbers of any operator.
OPCIJA STOTKA. The subscriber gets a credit of $117 to make calls, use the mobile Internet, and send SMS.
OPCIJA MI is the most profitable T-Mobile tariff plan, which is quite suitable for termination. Using it, one minute of the outgoing call will cost about $0.006. When you have your gsm data gateway running for 500 minutes a day, you can make about $1,200 per channel via OPCIJA MI.