Bosnia and Herzegovina, like many Balkan countries, is a promising area for terminating VoIP traffic. This route has a good rate ($0.16 per minute), which allows you to make $500 per channel if you choose the right prepaid package. In addition to the main mobile operators, there are 3 MVNOs in Bosnia and Herzegovina.
The main players in the country's market are BH Telecom, m:tel, and Eronet. Prepaid offers of the three GSM operators are supplemented with services of several MVNO (Happy, Haloo, and GoFree). These are virtual operators tied to the networks of the main cellular providers. Their SIM-cards can be successfully used for advantageous termination of voice traffic.
The most popular MVNO in Bosnia and Herzegovina is Happy. It operates via the network of the country's largest operator - BH Telecom. Happy starter packages are available in kiosks, shops, and post offices. The cost of a new SIM-card is minimal - $1.2.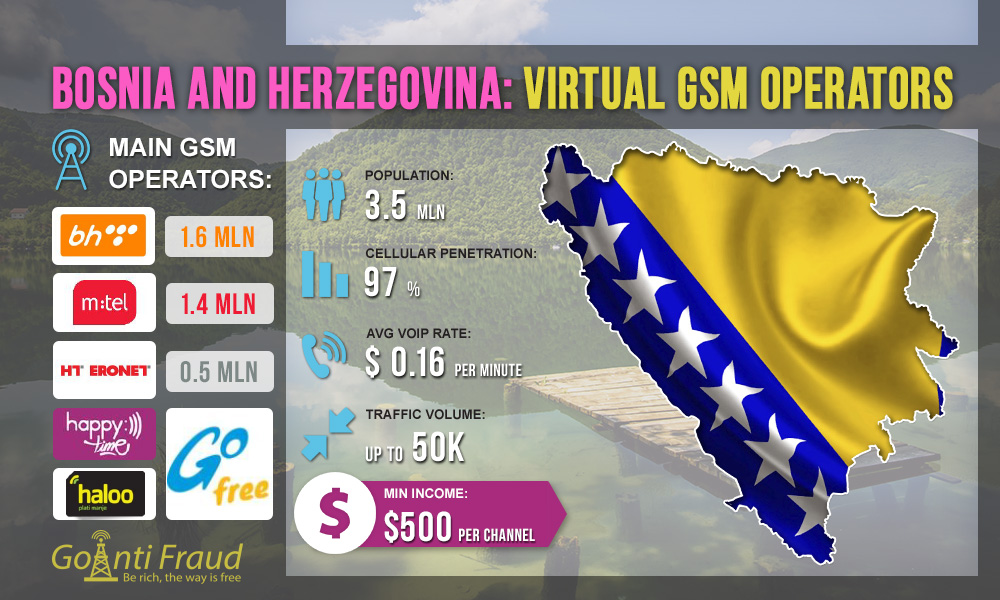 The virtual operator Haloo is owned by the HT Eronet network. The starter package includes 2 SIM-cards at once. The cost of the kit is $2.4. This is an excellent option for voice termination.
GoFree began to operate in the market of Bosnia and Herzegovina in 2015. It uses the infrastructure of the operator m:tel. The GoFree starter package costs $2.4 while the subscriber immediately gets the same amount to the account. The initial credit is valid for 30 days after activation. You can buy SIM-cards in the branded outlets of GoFree, as well as from street vendors.
When placing a gsm gateway asterisk in Bosnia and Herzegovina, it is important to choose the right operator and a profitable tariff plan. To get a good profit, you need to minimize the cost of SIM-cards and outgoing calls. Starter packages of virtual operators in Bosnia and Herzegovina are cheap and provide favorable tariffs for communication.