M: tel is the main competitor of BH Telecom as its market share in Bosnia and Herzegovina is 41%. It provides excellent GSM coverage in the country. M: tel SIM cards can be used to advantageously terminate voice traffic if you choose the right tariff plan.
Starter packages offered by m:tel cost $2.4 per piece while the subscriber immediately gets a credit for the same amount. That is, the money spent on the SIM-card will be returned to you after the activation of the number. For prepaid subscribers, the operator has a Frend tariff plan.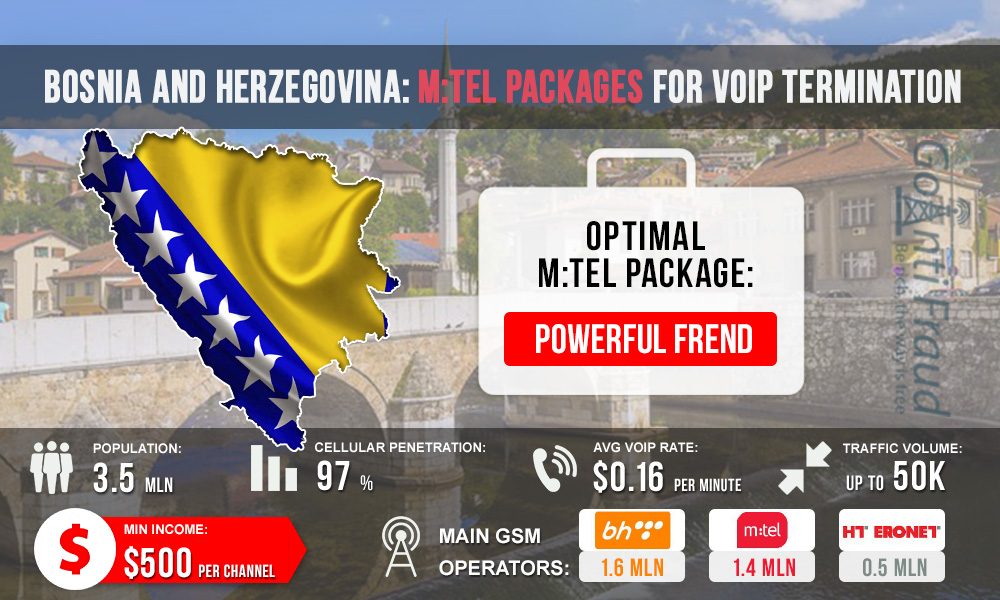 These are combined packages that include call minutes, SMS messages, and mobile Internet. There are 4 options:
POWERFUL FREND. 200 minutes + 200 SMS + 1 GB of the mobile Internet. The cost of connection is $11.5.
WISE FREND. 100 minutes + 100 SMS + 200 MB of the mobile Internet. The cost of connection is $7.2.
PRACTICAL FREND. 1 GB of the mobile Internet + unlimited use of social networks. The cost of connection is $7.2.
TIRELESS FREND. 80 minutes + 80 SMS. The cost of connection is $4.8.
POWERFUL FREND is the optimal prepaid package for GSM termination. Using it, one minute of the call from the SIM-card will cost $0.05. With the best voip mobile rates being around $0.16 per minute, you will make $400 per channel. The cost of SIM-cards is next to nothing, due to the initial credit. It is important to ensure your numbers are properly protected, in order to avoid blocking. To do this, we recommend using the proven tools that GoAntiFraud has to offer.