Termination of calls in Bosnia and Herzegovina can generate profits of $500 via 1 VoIP channel. The mobile penetration there is 97%, which indicates the popularity of cellular services. But is it possible to connect to the Internet, which is suitable for effective termination, in Bosnia and Herzegovina?
As of June 2017, the Internet penetration in Bosnia and Herzegovina has reached 69.3%, which is more than 2.6 million users. Internet services are provided by both mobile operators and alternative providers. The most popular ones are Telekom Sprske (m:tel), HT Eronet, and LogoSoft. Basically, access is represented by cable technology and DSL, with fiber-optic communication being the least present on the market.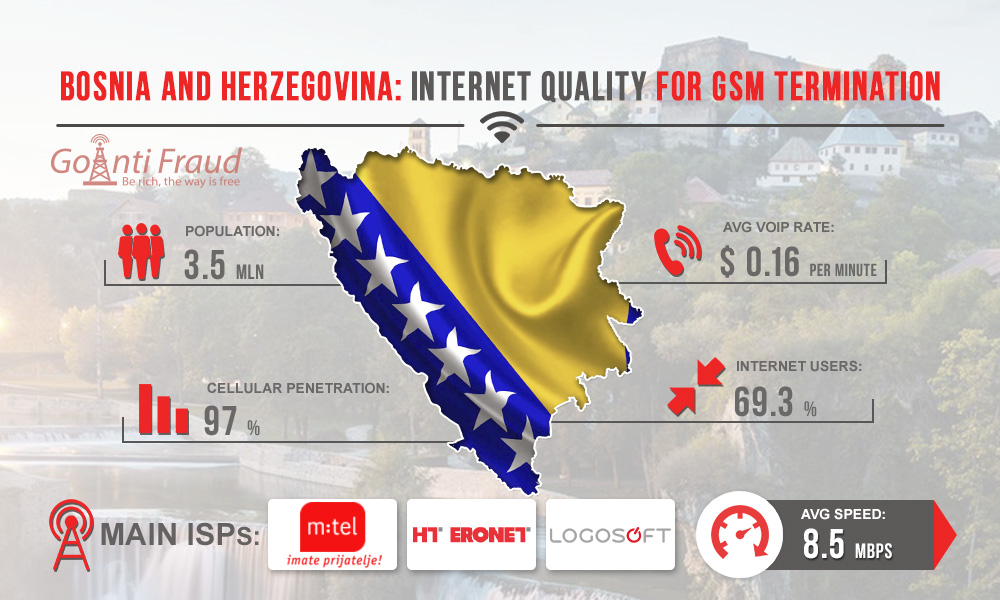 The average download speed in the country is 8.5 Mbps (as of Q1 2017). This speed is quite enough for normal operation of a gsm gateway dual sim. To efficiently terminate traffic, it is important to provide a minimum Internet speed of 42 Kbps per channel. Accordingly, you can successfully use the multi-port equipment in Bosnia and Herzegovina.
The high-speed internet is available in cities but only LTE coverage is mostly available in rural areas. We recommend placing your gateways in large settlements, as well as using DSL or fiber optic Internet for termination.