Ecuador is a Latin American country that has a great potential for the GSM traffic termination business. In this direction, there is a fairly high rate, with $0.09 per minute being an average. The mobile penetration reached 89%, with a population of 16.6 million people. In addition to the three main GSM operators, virtual service providers (MVNO) operate in the country as well.
Tuenti is the first virtual operator in Ecuador, which began operating in 2015. To provide services, this MVNO uses the Movistar network. Tuenti SIM-cards are sold throughout Ecuador. Starter packages are called Chip Tuenti and are available in supermarkets, pharmacies, and petrol stations.
The cost of the SIM-card is $5, with the Combo de Bienvenida tariff plan connected to it by default. It includes the following bonuses:
Free unlimited on-net calls;
15 minutes for calls to numbers of other operators;
15 SMS;
750 Mb of the Internet traffic.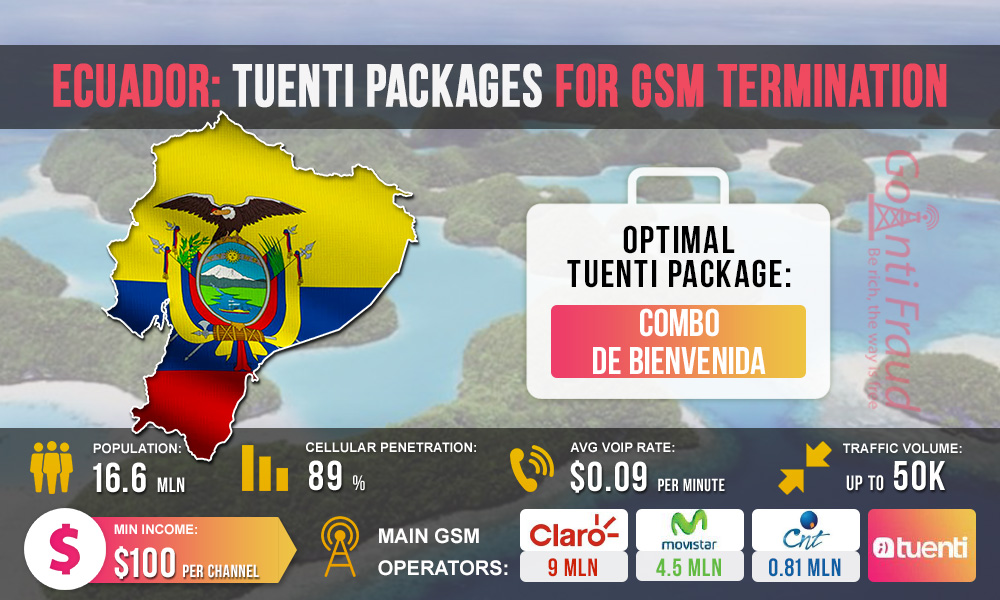 The subscriber can use the package for free within 7 days. Tuenti also offers a line of COMBO tariff plans. All of them provide unlimited on-net calls and additional bonuses. There are 3 packages in total:
COMBO 7 DIAS. 15 minutes + 15 SMS. The subscription fee is $5.
COMBO 15 DIAS. 30 minutes + 30 SMS. The subscription fee is $10.
COMBO 30 DIAS. 60 minutes + 60 SMS. The subscription fee is $15.
The most profitable package for the wholesale voice traffic business is Combo de Bienvenida. It is connected by default, so you can use the bonuses for free. Accordingly, on-net calls will be free, and you will need to spend money on SIM-cards alone. Terminating 5 hours a day, you will earn about $800 via 1 channel.