Gambia, an African country, has a relatively small population of 2.12 million people. Nevertheless, it provides good preconditions for starting a business in the field of termination of voice traffic. This route employs a high rate, which is $ 0.22 per minute on average, with the originating companies offering up to 100,000 minutes a month for terminating in Gambia.
Mobile penetration in the country reached 154%, which is above the average for the African continent. Such a rapid development of the mobile sector is due to the fact that the Gambia has a poor landline infrastructure. There are 4 mobile operators on the market:
Africell (about 2 million users);
QCell (more than 0.5 million users);
Comium (more than 0.35 million users);
Gamcel (about 0.3 million users).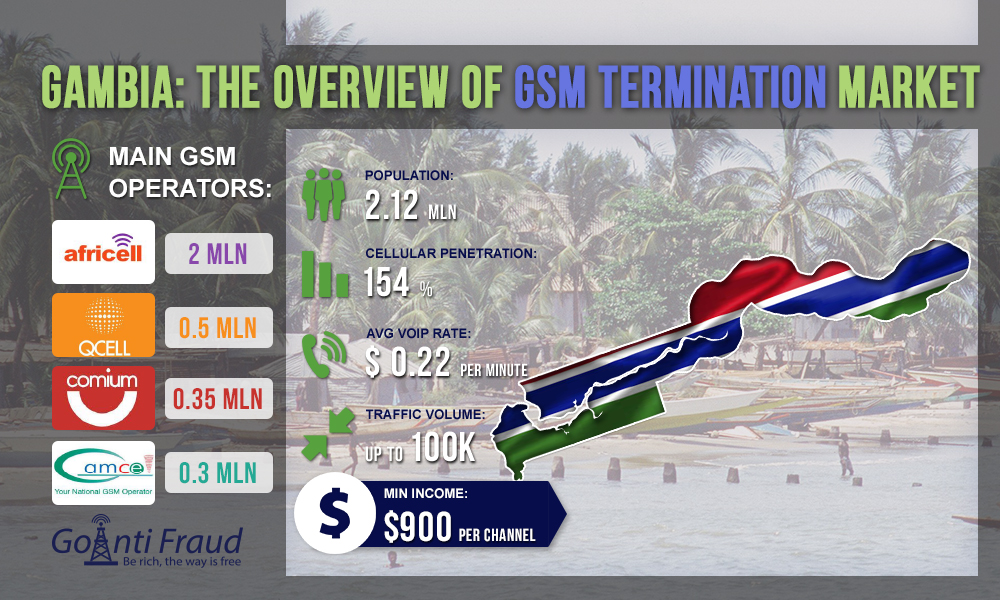 In Gambia, SIM-cards are very cheap: about $0.2 per piece. In 2011, a law was passed, according to which it is necessary to register each subscriber number. Nevertheless, SIM-cards are widely available for sale right on the streets. Not so long ago, Africell starter packages were distributed at airports for free. Even the government came to the conclusion that the registration scheme is inefficient, so you can easily buy cards without documents.
One minute of the local cellular call in Gambia costs about $0.06. If you terminate 5 hours a day using voip sip hardware, you will make $900 per channel. But remember that in countries with high rates it is important to reliably protect SIM-cards from mass locking by the operator. To this end, we recommend using the efficient tools that GoAntiFraud has to offer.