Transit operators are willing to pay an average of $0.3 per minute for terminating traffic in Cuba. This is a very high rate but making money on VoIP termination in this country is not that easy. In Cuba, the telecommunications sector remains state property and the government controls it stringently.
To date, Cuba is considered one of the countries that has the lowest level of communication penetration. Mobile penetration is the lowest in the region (37%) as other Latin American countries have a well-developed cellular communication sector. Nevertheless, with a population of 11.4 million, the country recorded more than 4 million connections. The development of the telecommunications market was hampered by the US embargo for many years but in 2016, the restrictions were significantly weakened. It is predicted that in the near future the situation in the telecommunications sector of Cuba will change
The market is dominated by the operator-monopolist Cubacel, which the state company ETESCA owns, and is controlled by the government. Cellular services in Cuba are quite expensive. The SIM-card costs $30, with an initial credit of $10. At the same time, ETESCA carefully registers all IMEI numbers and blocks SIM-cards if invalid codes are detected.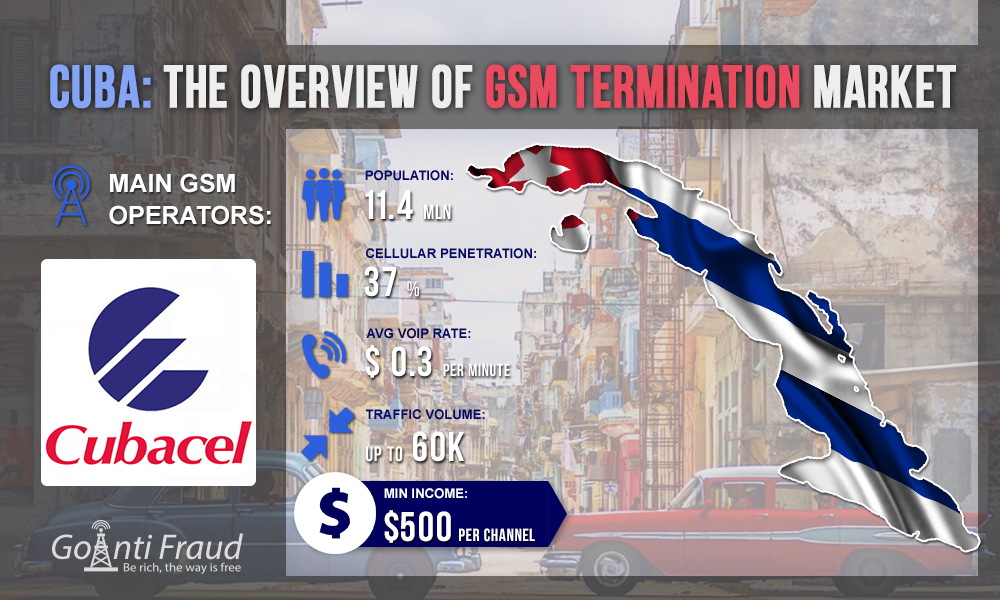 The rules regarding the purchase of starter prepaid packages are constantly changing on the island. For example, tourists and temporary visitors to Cuba are currently prohibited from buying a local subscriber number. Instead, foreigners are encouraged to rent a Cubacel SIM-card for a while. The maximum lease term is 45 days, as well as you have to pay $3 for each day.
In Cuba, only permanent residents of the country can buy local SIM-cards. Therefore, you may have problems buying a large number of numbers for termination. You need to find a dealer who sells SIM-cards, or negotiate with local residents so they register numbers in their own names.
Cubacel has day and night tariffs. In the daytime (from 7:00 a.m. to 11:00 p.m.), one minute of the call costs $0.35, and the night call costs $0.1. With an average rate of $ 0.3 per minute, it makes sense to terminate calls after 11:00 p.m. When you have your GSM gateways operating for 5 hours a day, your potential income will be about $500 per channel.
Working in the field of asterisk voip termination in Cuba can be more profitable for you. But you need to take into account a lot of nuances, build a complex logic of SIM-cards and change an IMEI to bypass antifraud systems. Only competent GoAntiFraud experts can help you to make it happen. Start a profitable business with us! Our experts can also offer you other promising routes to make your GSM termination profitable.