Due to its location, the number of tourists and the high labor migration, Egypt is one of the most attractive countries for the VoIP GSM termination. The population of over 85 million people makes in the country's volume traffic more than impressive.
Moreover, according to the International Convention, 2.5 million of Egyptians live abroad. Most of the migrants in Egypt (70%) go to work in the Arab and African countries with a higher standard of living, while making money and learning in Europe, America, Australia account for about 30% of migrants. The largest number of citizens 923,600 are in Saudi Arabia, 332,600 in Libya, 226,850 in Jordan, and 190,550 in Kuwait. These countries provide the main traffic flow for VoIP GSM terminators.
The main demand for the termination traffic volume in Egypt falls on Algeria, Libya, Saudi Arabia, Sudan, Cameroon, Kuwait and Ethiopia. In total, it makes about 200k minutes a month. At the same time, the demand for termination between Egypt and European countries makes 20k minutes a month on average. Speaking of mobile operators, Vodafone SIM-cards process the largest volume in the VoIP GSM gateways. Overall demand for mobile operators in Egypt is around 60k a month.
Want to start the GSM termination business in Egypt ? We offer you NewBusiness package for beginners, which will ensure you have a successful start. The solution from GoAntiFraud includes the necessary VoIP equipment, tools to protect against the SIM-block, as well as software to computerize the operation and remote control over GSM gateways.
Moreover, the volume of purchased traffic depends on a destination and time. The best period for termination in Egypt is December-January, the peak of which falls on New Year's Eve. The demand for the purchase of large volumes of traffic increase during those months. The country attracts thousands of tourists and attendants as well.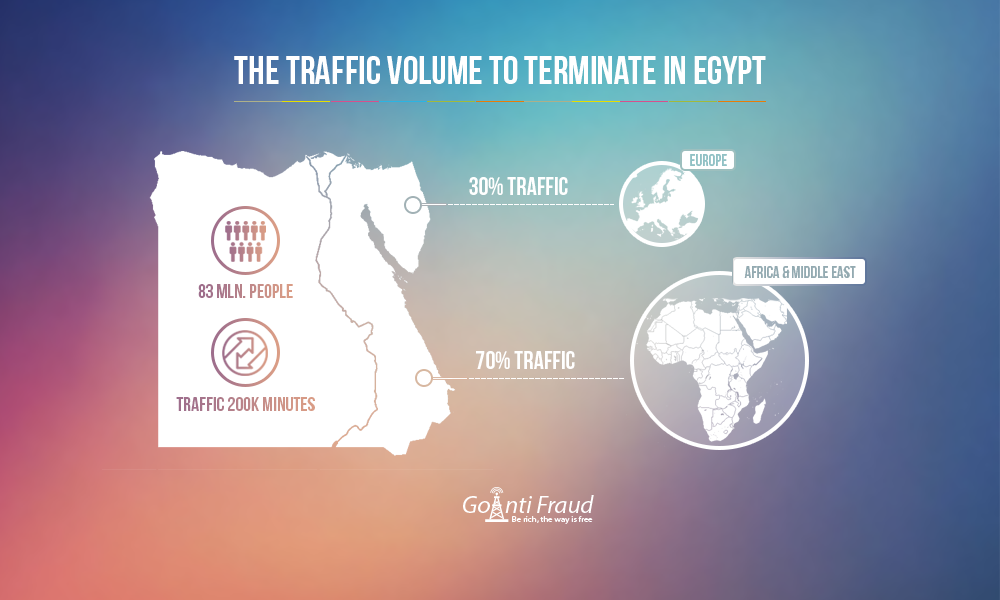 Popular locations for termination in Egypt are Cairo, Giza, Alexandria, Luxor, Hurghada, Makadi Bay, and El Gouna. These are the locations to provide the best Internet coverage.
By the way, another peak in the flow of traffic to buy new VoIP GSM gateways are religious holidays, such as Ramadan, when the number of subscribers increases sharply. Everyone wants to receive incoming/outgoing calls at the lowest rates. During this time, terminators may make $7,000 a month depending on a destination and an operator.
Your GSM termination business Egypt can bring you more profits! Connect your equipment by EjoinTech & China Skyline, GoIP or Topex to GoAntiFraud to provide 100% productivity. You'll make more money as soon as the first months of work with the service.