Digicel is the third-ranked provider of cellular services in Panama as its subscriber base consists of about 1.1 million users. Its SIM-cards are available in many outlets throughout the country. Low prices for outgoing calls will allow the terminator to make good money on the difference in the cost of international and local calls. In order to profitably terminate traffic, you will need the most favorable tariff plan.
SIM-cards in Panama are cheap as they cost about $ 1 apiece. Digicel has several offers for prepaid customers but most are meant for using the mobile Internet. There are only 2 packages that include minutes to make calls and suitable for termination:
PLAN TODO INCLUIDO. The tariff plan is available for 1 day, which is very convenient for voice termination. In total, 60 minutes are available for on-net calls within so that you probably have time to use them before the SIM-card get blocked by the antifraud system. The cost of connecting the package is as little as $0.50.
ALL-INCLUSIVE PLAN. This tariff plan is available for 1 month; the cost of its connection is $20. The subscriber gets 200 minutes to make calls to any numbers.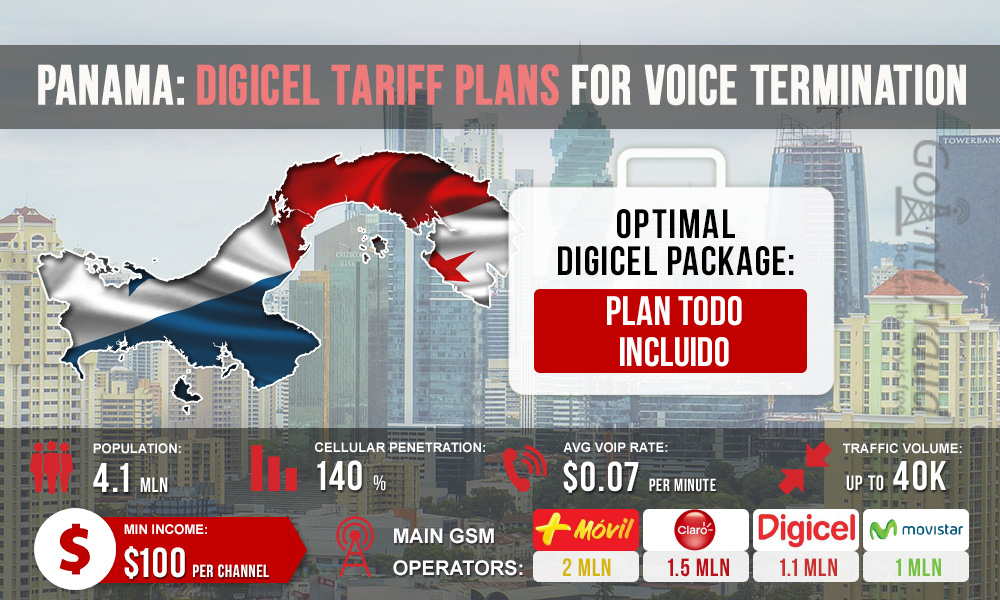 PLAN TODO INCLUIDO will be a good choice for earning money on termination. Costs for outgoing calls will be minimal. But, since the package provides you with only 60 minutes, your income will be about $50 via one channel of a gsm gateway for asterisk. But when you use multi-channel GSM gateways, you can significantly increase your profits.
ALL-INCLUSIVE PLAN is not suitable for GSM termination since one minute of the call will cost $0.1 if you are going to use it. With an average rate of $0.07 in Panama, the use of this package will be unprofitable for your business.