In Panama, the Movistar brand is owned by the Spanish telecommunications company Telefonica. Movistar is the fourth-ranked mobile operator on the Panamanian market as its subscriber base consists of about 1 million users. To use SIM-cards of this operator for voice termination, you need to choose the best tariff plan.
Movistar starter packages are available in many outlets of the country. Approximate cost of the new SIM-card is $1. Movistar's standard tariffs on calls are quite expensive: $0.8 per minute for on-net calls and $0.15 per minute for calls to off-net numbers. You can also connect Tarifa Unica to call any number at a flat rate, which is $0.1 per minute, or Plan Promo ($0.73 per minute). But with an average rate of $0.07 for Panama, such prices are too high to make money terminating.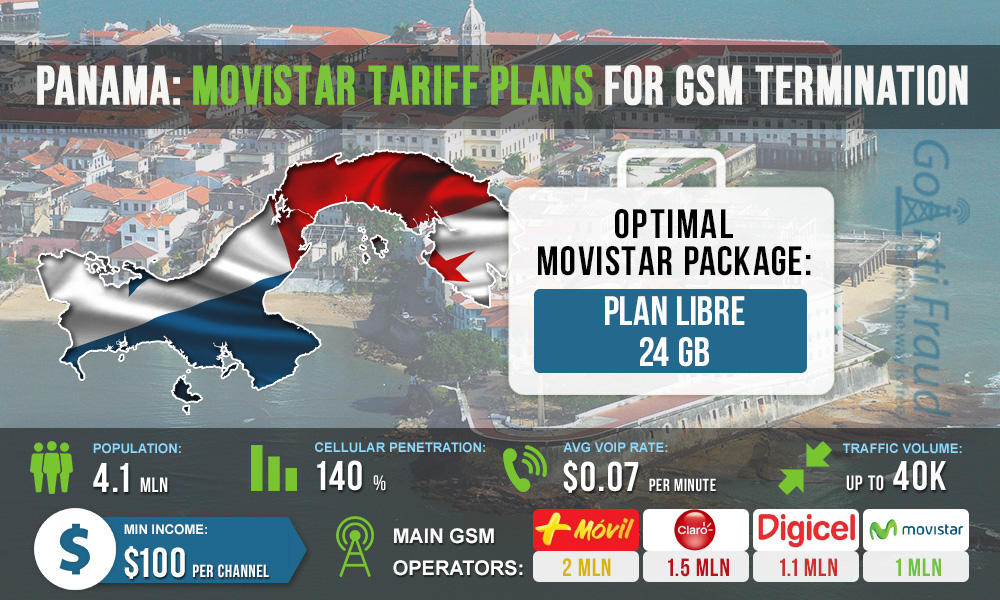 Movistar also has combined packages for prepaid customers: Paquetes de Data and Planes Libres. They include the following offers with bonus minutes for calls:
1.5 GB. It costs $9.95 and provides 40 minutes.
1.1 GB. It costs $5 and provides 20 minutes.
525 MB. It costs $3 and provides 10 minutes.
250 MB. It costs $2 and provides 5 minutes.
GB. It costs $15 and provides 100 minutes.
24 GB. It costs $59 and provides 1,000 minutes.
The Plan Libre 24 GB package will be the best choice for termination. Using it, one minute will cost $0.05. You can use 1,000 bonus minutes within 3 days, which equals the average lifespan of the SIM-card before it is blocked. Accordingly, you will make about $140 via one channel of a voip call termination gateway. Remember that you should minimize the risks of the SIM-block to efficiently do GSM termination. To make it happen, use the proven GoAntiFraud tools.