The Internet penetration rate in Paraguay was 47% in 2017, which is about 3.2 million connections.. The local sector of Internet services is open to competition, with more than a dozen providers operating there. Monopolist Copaco has lost a monopoly on international access to the Internet, so services are currently provided at more democratic prices. But will the Internet in Paraguay be suitable for efficient terminating of voice traffic?
Paraguay has no access to the sea, which makes the country dependent on neighboring states in terms of the connection to submarine cable networks. In this regard, prices for broadband access services are higher than in many other Latin American countries. Nevertheless, active competition contributes to the gradual reduction of tariffs.
Today, in Paraguay, you connect the Internet using cable and fiber-optic technology, as well as WiMax and DSL. DSL services are available only in certain regions since the fixed-line sector is poorly developed. The market for fiber-optic connections is growing rapidly but access to the FttP-Internet is still limited to large cities.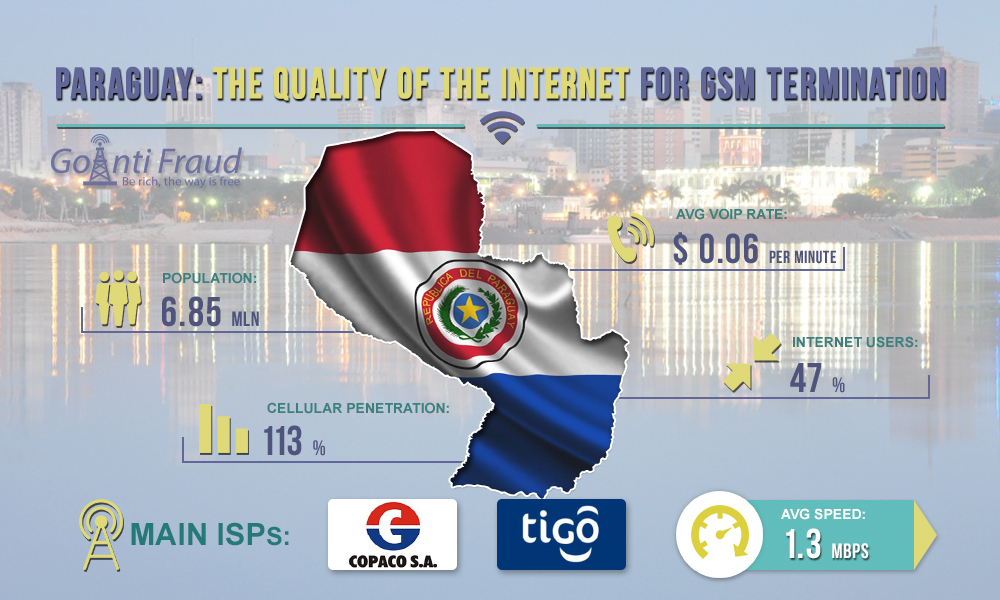 In addition to the state-owned company Copaco, other operators are operating in the market of Paraguay. The main competitor of the state provider is Tigo Paraguay, which provides access to HFC, WiMax, and FttP technologies.
The average Internet speed in the country is 1.3 Mbps, which is enough to use a multi-channel gateway at the rate of 42 Kbps per port. Connecting the fiber optic Internet will provide you with higher speeds. At the same time, with relatively low call rates of mobile voip in Paraguay ($ 0.06 per minute), you need to choose a profitable Internet plan for VoIP equipment operation.