The population of Burundi, an African country is more than 11 million people, with mobile penetration reaching 50%. Although this is one of the lowest in Africa, there are still a lot of voice traffic in the country as the number of mobile connections is about 5.6 million. At the same time, the average rate for this direction ranges from $0.09 to $0.3 per minute. All these are excellent preconditions for starting a profitable voice termination business.
Due to the high population density and low penetration of telecommunications services in Burundi, the country is very attractive for foreign investors. At the moment, there are 4 cellular operators in the country:
Econet Leo;
Lumitel (Viettel Group);
Onomob (Onatel);
Smart Mobile.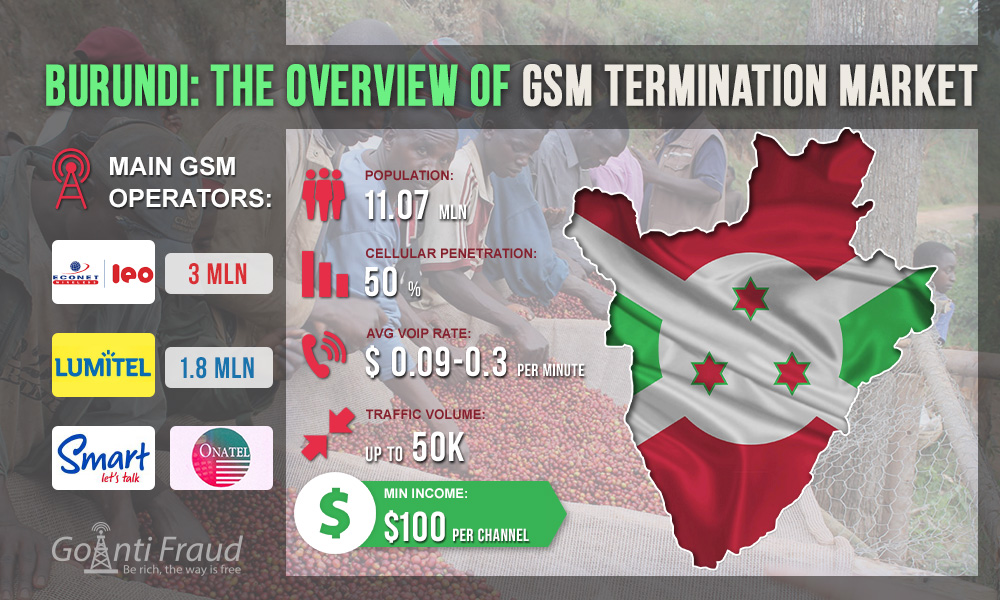 The market leader is Econet Leo, which serves about 3 million subscribers in the country. Lumitel ranks second in terms of coverage of the mobile sector as its subscriber base is more than 1.8 million subscribers, although it entered the market of Burundi only in 2014.
The state-owned company Onatel owns the brand Onomob. In Burundi, there is also the GSM operator Smart Mobile. Both operators have the smallest shares on the market.
In Burundi, SIM-cards cost an average of $1 per piece, with the tariffs on calls being minimal. If you installing your voip telephone hardware in this country, you can earn at least $100 via each port of the GSM gateway. To make a big profit from the termination of calls, it is important to select beneficial tariff plans for SIM-cards. Then the difference in the cost of international and local calls will be maximum and positively affect your earnings.