Mozambique, an African country, has become one of the first in the region where telecommunications reforms began. As a result, the mobile sector was open to competition. Although the mobile penetration rate is below the regional average (62%), there are 18.05 million connections in the country (with a population of 30.2 million). Average mobile voip call rates south africa in the direction of Mozambique are $0.03- $0.04 per minute, with low rates for local communication.
In Mozambique, there are three providers of cellular communication services:
mCel;
Vodacom Mozambique;
Movitel.
The mCel operator is the market leader, actively competing with Vodacom. In 2011, Movitel, the third provider, entered the market. To date, its subscriber base comprises about 4 million users. The new market player had the mobile sector shaken up. This led to a reduction in tariffs for services and improved voice quality.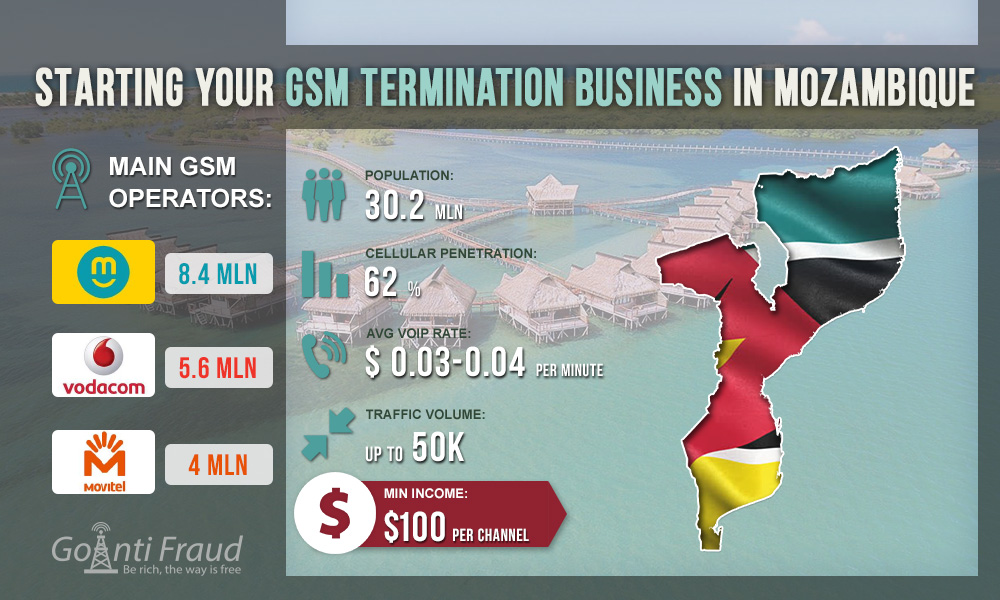 In Mozambique, many residents use more than one SIM card for cellular communication. 96% of all connections are prepaid. The starter package costs only $0.8. The standard tariff for calls is $0.08 per minute but different packages for prepaid subscribers offer a minute of the call even at $0.004. As a result, the terminator can earn at least $100 via one port of VoIP equipment in Mozambique.
In 2010, the government decided to introduce mandatory registration of prepaid SIM-cards. However, in Mozambique, there are hundreds of street merchants who sell starter packages without registration. But when buying on the street, SIM-cards may cost higher.