Average voip call rates sri lanka range from $0.03 to $0.06 per minute while rates for local cellular communication in the country are considered to be among the lowest in the world. Mobile penetration in Sri Lanka is 126%, with the population of 20.9 million people. So Sri Lanka concentrates impressive volumes of voice traffic. This opens up great opportunities for making money on termination in Sri Lanka.
Sri Lanka's telecommunications market is not too large but it is much more developed than in neighboring Bangladesh and Pakistan. And the fact that the fixed-line sector is in a poor state has played into the hands of the mobile services market. While the number of fixed lines continues to decrease, the segment of cellular communication is rapidly expanding.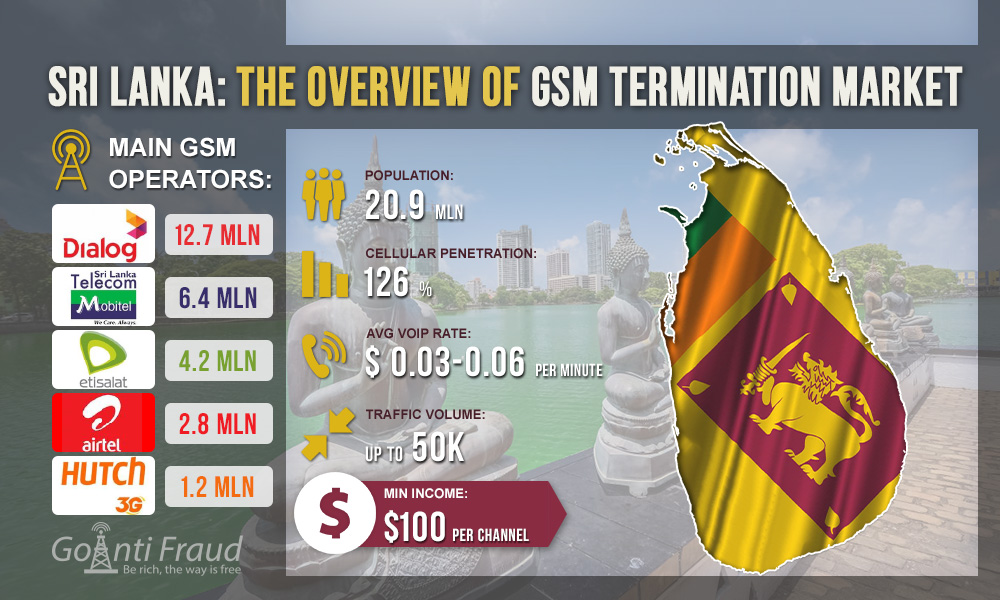 The past 5 years' strong growth of the mobile sector is due not only to the poor state of the fixed infrastructure but also to competition in the market. In Sri Lanka, there are 5 mobile operators: Dialog, Mobitel, Etisalat, Hutch, and Airtel. Experts predict further moderate growth of the local mobile sector until 2022.
Sri Lanka provides good GSM coverage, including small towns. Buying SIM-cards there is very simple as they are sold at airports, shops of operators, and other retail outlets. Street vendors have no problem selling starter packages without requiring documents. The average price of a new SIM-card is only $1, and the standard tariff for outgoing calls in Sri Lanka is $0.01 per minute. At such an attractive price, an entrepreneur can make $100 via each port of equipment, terminating VoIP traffic.