Telecommunication company Dialog Axiata is the largest mobile operator in Sri Lanka, its services are used by about 12.7 million subscribers. "Dialog" has the best GSM coverage in the country and there are good offers for prepaid clients. The "Dialog" start plans will become a successful solution for profitable VoIP traffic termination.
You can buy the operator's SIM-cards not only in special stores but also at airports, shops and street kiosks. The start plans are available with per-second and per-minute billing. Both plans cost $ 1 apiece.
Having bought this SIM-card, you can enjoy the following offers for prepaid clients:
The 1 For 1 Plan. This tariff plan provides a price of $ 0.01 per minute of the call (to any number). The fee for changing the plan is only $ 0.01, and you can change the tariff plan one time for free.
Any Network 150 Plan. The minute of call will cost you $0.009 (to the numbers of any operators). As in the previous case, the change of tariff plan will cost you $ 0.01 (if you have already changed the plan one time).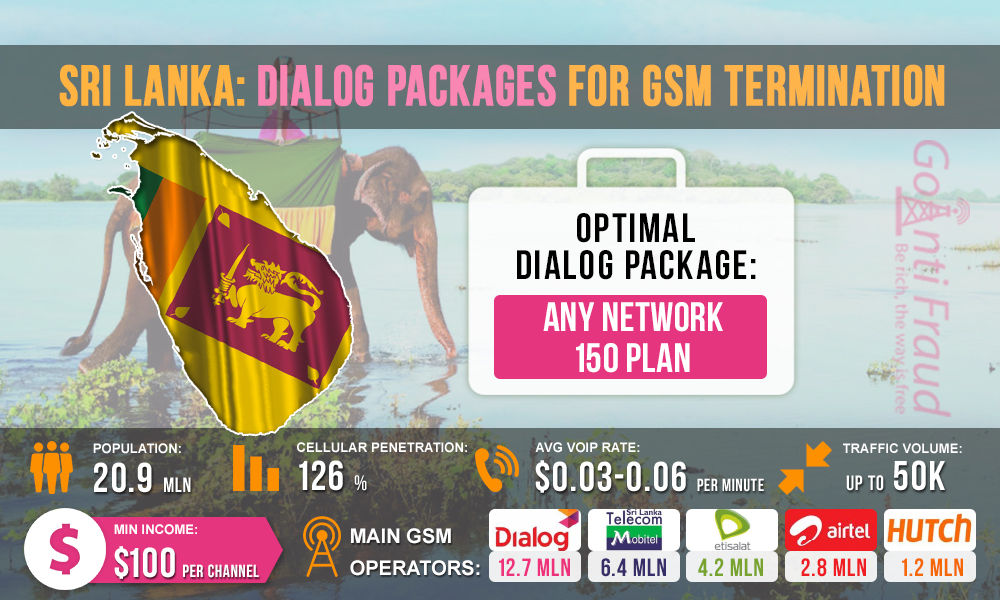 The "Any Network 150 Plan" would be a perfect choice for profitable termination. With this plan, the minute of an outgoing call will cost you $ 0.009, with average voip rates for sri lanka being $ 0.03- $ 0.06. Having ensured a stable operation of the channels for 5 hours a day, you will earn at least $ 100 from each port of the equipment.
To earn on termination, it is important not only to choose the optimal call plan, but also to connect to reliable Internet. Follow our updates - we will tell you about the quality of Internet connection in Sri Lanka very soon.