The traffic termination business began to emerge on the African continent, because they have an inexpensive local connection but high rates for international calls. Today, this business area continues to develop in Africa countries. Mozambique is one of the examples of profitable routes for traffic landing. But for a stable income is important to connect to reliable Internet.
Although after the civil war in Mozambique there was some delay in the telecommunications market development, this country was one of the first in the region to start reforms in telecommunications. Some of the market sectors were open to competition, in particular the mobile segment. Therefore, the country has a high penetration of cellular communications, which is a good precondition for effective termination.
At the same time in Mozambique, the fixed-line communications sector is poorly developed, which constrains the development of the Internet services market. Most connections are through the mobile Internet, and the Internet penetration rate is only 9% (about 2.62 million connections). For a long time, high prices for the services restrained the development of the market. But not so long ago, two international submarine cables have been laid, which allowed lowering the cost of bandwidth and, accordingly, tariffs for broadband Internet.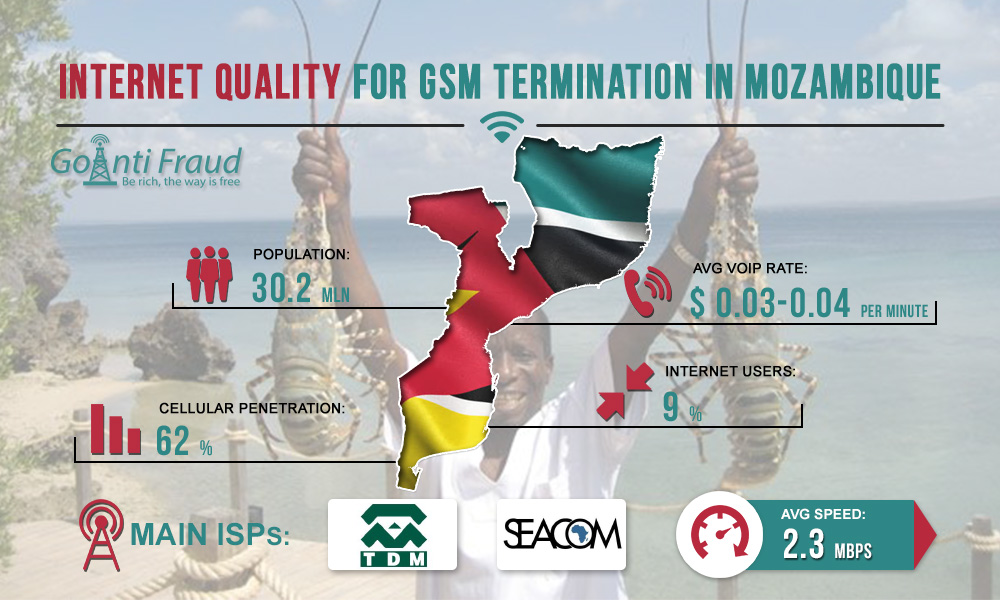 To date, Internet users in Mozambique have access to DSL, WiMAX and 3G technologies. Please be reminded, that 3G Internet is not suitable for GSM termination, because it does not provide a stable signal. At the moment, national baseline networks of TdM provider (Telecomunicações De Moçambique) are also being deployed. Experts predict further improvement of Internet services market due to this fact.
The main players on the market of Mozambique are the Internet providers TdM and SEACOM. An average Internet Bandwidth in the country is 2.3 Mbps. This is sufficient for normal operation of multiple gsm gateways for call termination for a small number of channels.