Movitel is the third large GSM operator in Mozambique by the number of connections. Its services are used by about 4 million subscribers and this despite the fact that Movitel appeared in the market just a few years ago. The operator achieved such success by providing GSM coverage in areas not covered by other cellular service providers. To use Movitel start plans for profitable VoIP GSM termination, select an optimal tariff plan.
The Movitel starting plan is very cheap - iust $0.08. Moreover, the subscriber is given an initial loan of $0.09, and at the first top-up, he gets a bonus of $0.5. Thus, your business expenses for the purchasing of new SIM cards actually reduce to zero.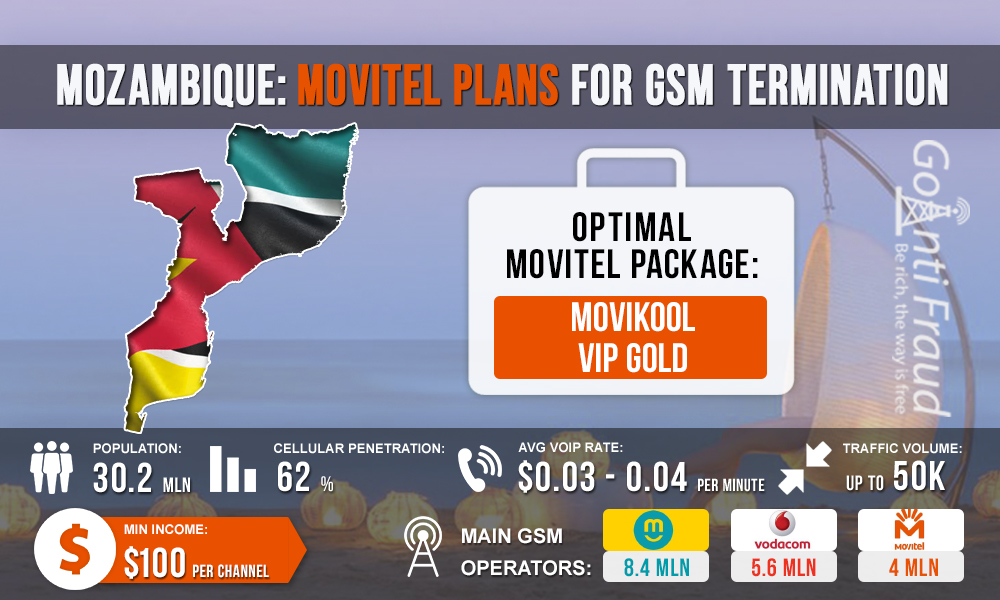 For prepaid subscribers there are several advantageous offers. They include:
VIP GOLD. Subscription fee - $8 per month. The plan provides 500 minutes for calls within the network.
MOVIKOOL. Subscription fee - $$3.2 per month. The plan provides 200 minutes for calls within the network and 20 minutes for calls to other operators' numbers.
Both plans perfectly suit for voice traffic termination. Choose a tariff plan, based on the amount of traffic to be terminated. If your 32 port voip gsm gateway will run for 200 minutes a day, connect to MOVIKOOL. With this plan, the price per minute of call will be about $0.01. Then your minimum earnings will be $80 from one port. If you plan to land more traffic - select VIP GOLD. With this plan, you will make a profit of $150 from each channel (with the equipment running for 500 minutes a day).