Etisalat is one of the youngest GSM-operators in the Egyptian market, and the cheapest, accordingly. In pursuit of new subscribers this operator offers the lowest tariffs for communication, including free minutes within network provided by prepaid packets and credit post payment terms.
Naturally, you should consider only prepaid tariff packages for the needs of VoIP GSM termination. The most attractive of which is the Ahlan Tol ElNahar. Daily payment for it is $0.15. In addition, the user can freely communicate for any number of minutes in the network.
If we take the average service life of SIM-cards lasts for 7 days, the terminator will have to pay as little as $1.05 a week. This is the lowest rate compared to other prepaid packages. At the same time, a minute of conversation will cost from $0.0003 to $0.03, depending on how many hours SIM-cards have operated.
The second attractive package for VoIP GSM termination in Egypt is Ahlan Kol 7aga All Day. The subscriber fee here is $0.32 per day, regardless of the number of calls. If SIM-cards operate for 5 - 8 hours in the GoIP gateway, one minute of a call will cost terminator $0.0006 to $0.001.
Want to start the GSM termination business in Egypt ? We offer you NewBusiness package for beginners, which will ensure you have a successful start. The solution from GoAntiFraud includes the necessary VoIP equipment, tools to protect against the SIM-block, as well as software to computerize the operation and remote control over GSM gateways.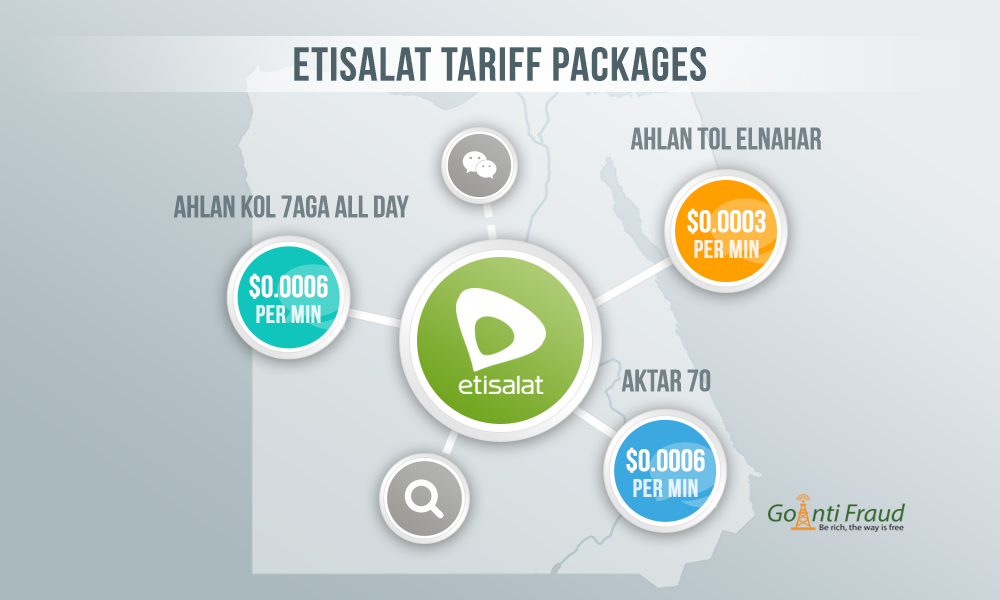 At the same time, a good option to terminate in Egypt is Aktar packages. Owing to a variety of tariff plans, the operator provides the user with a huge range of different approaches to work, which are the reduced minute cost in the Etisalat network or you can use a maximum traffic at low cost within the network.
The Aktar subscriber fee ranges from $2.20 to $10.33. In terms of termination, it is better off choosing Aktar 70, which is a tariff plan for 1,500 free minutes, with the subscriber fee of $ 10.33. A minute of conversation via Aktar 70 will cost $ 0.006.

As for the other packages, for example, El Nos Geneih, you can make a partial prepayment in the amount of a credit payment that is not suitable for termination.
Profitable tariff packages of Mobinil Egypt here.
Another important advantage of Etisalat is the opportunity to disguise from the AntiFraud system and protect against SIM blocks using GoAntiFraud service tools that can extend the SIM-card operation to a few weeks.