And again, we are returning to the African continent, where the business of the GSM traffic termination once arose. Zambia can become a promising route for international calls landing. With a population of more than 17.5 million people, mobile penetration has reached 76% here (almost 13 million connections). In combination with a good rate, this opens up great prospects for earning money on terminations.
As of the end of 2017, GSM coverage is available to 92% of Zambia population. 96% of all mobile connections account for prepaid subscriptions. There are 3 mobile operators in the country - MTN, Airtel, Zamtel. Recently, another player appeared on the market - Vodafone, but it only provides access to LTE networks.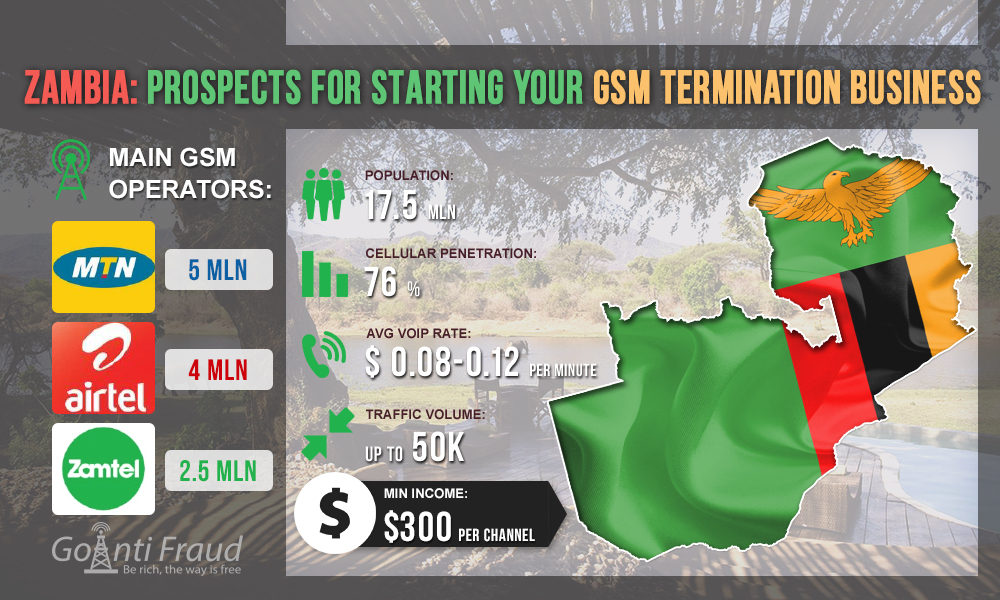 Cellular communication in Zambia is very cheap, as well as new SIM-card. The cost of a minute of an outgoing call is about $ 0.001 and the cost of a start plan is only $ 0.53 apiece. Since 2011, the country introduced mandatory registration of prepaid SIM-cards, but you can buy an already registered card from the dealers. However, such start plan is usually somewhat more expensive. Purchased but unregistered SIM-cards can be blocked by the operator at any time.
With the voip gsm gateway device running for 300 minutes a day, you will be able to earn $300 from a channel. The more equipment you install and the more ports it has, the higher your earnings will be. A large volume of voice traffic is concentrated in Zambia, so you can make a maximum profit on terminating international calls.