Mobinil offers many prepaid packages at affordable rates. ALO and Star are best suited for the termination. ALO provides 5 lines, including 11 tariff plans for users. Star offers a different number of minutes in the network, divided into 6 types.
Egyptians love to talk, including by mobile phones. That is why Mobinil offers packages with a lot of minutes for subscribers, the best of which are Kalamngy All Day long and Kalamngy All Day long +, requiring that subscribers top up the balance for $0.38 and $1.91 a day. If we consider that a SIM-card operates 6 hours a day on average, we will have $0.001 and $0.0053 per minute. $0.0010 - $0.0008 per minute are provided by other tariff plan - Bort2any All Day long by ALO. The only thing is that the package requires full advance payment once a day for $0.31.
Using ALO packages, you can constantly make calls and talk on the phone in the network using GoIP 32. The user can talk as much as he wants. Unlimited packages to be paid for once a day are a gift for terminators.
However, many terminators prefer not to deal with the daily subscription fee. It is problematic to top up SIM-cards every day if the GoIP gateways is located not in the same town and has lots of channels. However, using GoAntiFraud, you can automatically top up a large number of SIM-cards.
Want to start the GSM termination business in Egypt ? We offer you NewBusiness package for beginners, which will ensure you have a successful start. The solution from GoAntiFraud includes the necessary VoIP equipment, tools to protect against the SIM-block, as well as software to computerize the operation and remote control over GSM gateways.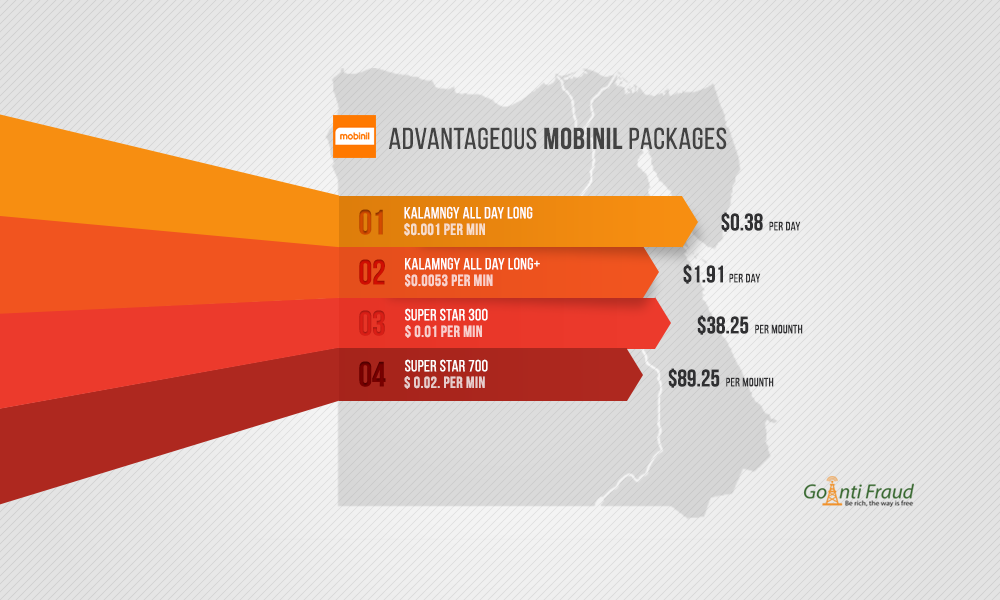 One-time pay at a low cost per minute of a call attracts many terminators. Such conditions are provided by Star - Super Star 300 and 700. With a monthly payment of $ 38.25 and $ 89.25, the price per minute of conversation is $0.01 and $0.02. The operator provides a huge unlimited number of calls within the network and 3,600 minutes of off-net calls.
Termination via Mobinil costs $0.075 for calls made from one number. Profit Using Star packages, you can make $0.065 per minute from one SIM-card. When you install a 32-channel gateway, you can make $7,488 a week.
Although Mobinil offers a lot of services, GoAntiFraud can do the same. The resource provides significantly more features for convenient VoIP GSM termination, for example, an automatic response to your subscribers when service will play an answering machine recording.
You can buy an unlimited number of SIM-cards in all the outlets of the mobile operator, without providing documents. You can top up your balance by paying for a service package at any Mobinil outlet, transferring money, using Distel terminals or electronic money.
More about profitable tariff packages of Vodafone here.
Your GSM termination business Egypt can bring you more profits! Connect your equipment by EjoinTech & China Skyline, GoIP or Topex to GoAntiFraud to provide 100% productivity. You'll make more money as soon as the first months of work with the service.