Oman is quite a promising direction in terms of earning on VoIP traffic termination. In recent years, the mobile market of this Asian country has become very developed, due to high competition and intensive activity of MVNO. But what about the quality of the Internet connection for efficient operation of equipment in Oman?
The Internet services market is fairly well developed in Oman, including the broadband access sector. The Internet penetration rate has reached 74%, which is more than 3.4 million connections. Recently, actions were taken in the country to improve fiber-optic networks. One of the largest Internet providers in Oman - Oman Broadband Company, has launched a national broadband access program. It is expected that by 2040 all enterprises and homes in the country will have access to fiber optic Internet.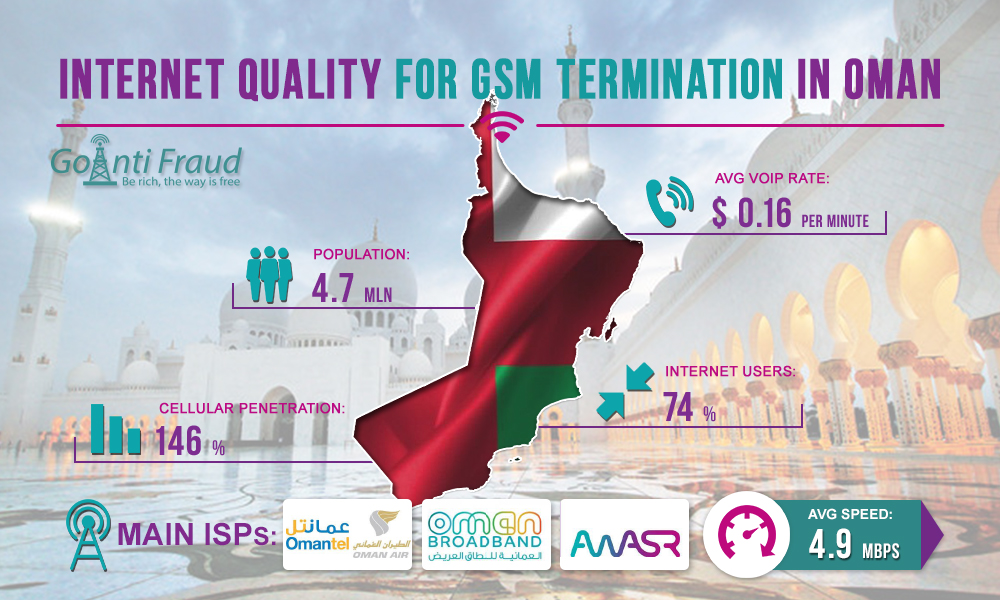 Oman has excellent average Internet connection speed of 4.9 Mbps. Even with multi-channel gateways, this speed will be sufficient to effectively terminate calls using the bond of gsm gateway sim bank equipment. The most popular Internet providers in Oman are Omantel, Oman Broadband Company, Awasr-Oman. They mainly provide Internet connection services based on modern fiber-optic technology.
Remember that to get a good profit on traffic termination it is important to minimize your Internet expenses. Follow our ads on GoAntiFraud blog - we will share some information about tariffs for Internet services in Oman soon.