MTN is the largest mobile operator in Zambia with excellent GSM coverage. Immense volumes of voice traffic pass through this cellular service provider and you can earn on it. To get the maximum return on termination of calls, use a profitable tariff plan from MTN. We will help you choose the best option.
MTN SIM-cards in Zambia are sold in many outlets, as well as at airports. The cost of one start plan is just $0.53. Tariffs for calls for prepaid subscribers are also very low. Let's discuss two plans that are best suited for voice termination:
MTN Anytime. Provides reduced tariffs for outgoing calls at night (from 23-00 to 5-00). The minute of the call will cost you $0.1 (both within the network and to the numbers of other operators).
MTN Talk 4eva. The plan is designed for profitable long-term calls (up to 60 minutes). The first 3 minutes of call are charged at $0.11 per minute (within the MTN network) and at $0.14 per minute (to the numbers of other operators). All remaining call time is charged at $0.001 per minute.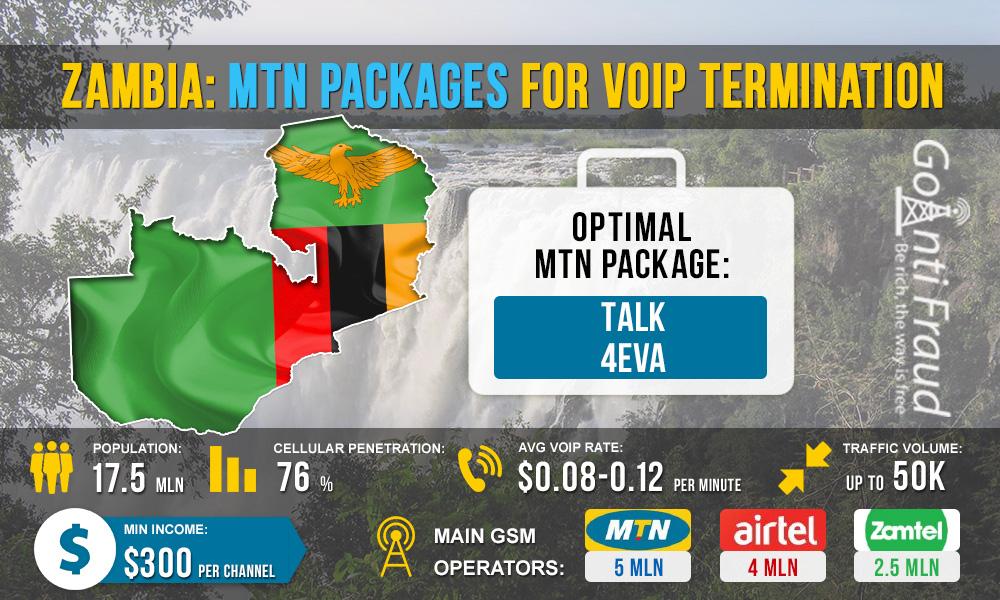 If you change the tariff plan for your MTN SIM-card for the first time, it will be absolutely free for you. If you change the plan again, you will only need to pay $0.05.
MTN Talk 4eva will perfectly suit for profitable termination of voice traffic. With this plan, you will earn $300-$400 from each gsm gateway ets 16g port (subject to calls duration). The more VoIP equipment is involved, the higher your income will be.