Airtel is the second largest operator in Zambia by the subscriber base, after the market leader MTN. This service supplier has excellent GSM coverage in all of 72 regions of the country. To get a good profit on the voice termination in Zambia, choose the most suitable tariff plan from Airtel.
Airtel SIM-cards in Zambia are very cheap - only $0.51 per piece. In addition to the operator's branded stores, they can be bought in many retail outlets, as well as at the airport. For prepaid clients, Zambian GSM-operator offers several tariff plans:
New Freedom Plan. The price for a minute of call is $0.06. Calls can be made to any number.
One Time Plan. The price for a minute of call is $0.1 (to the numbers of any operators).
Club Zed. The price for a minute of call is $0.09 (both within the Airtel network and to other networks).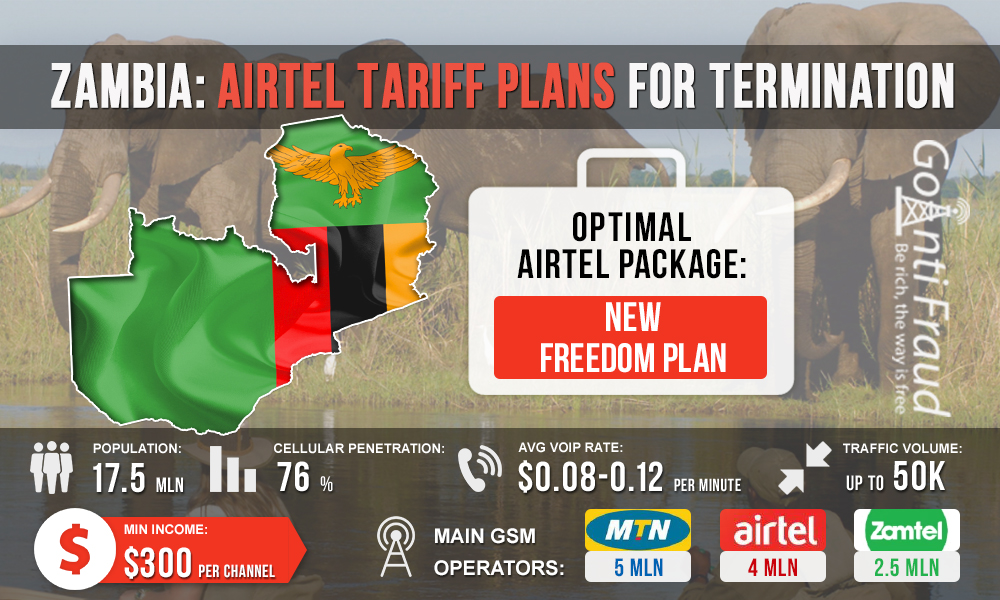 The best choice for VoIP termination will be the New Freedom Plan from Airtel. With an average rate in Zambia being $0.08- $0.12, you will earn at least $100 (from each port of 4 channel gsm voip gateway).
For stable earning on the landing of calls, make sure you've taken care to protect yourself from the operator's anti-fraud systems, which block the detected SIM-cards. We recommend using a package solution from GoAntiFraud, which allows not just mask the numbers from anti-fraud but also automate the work flow and obtain exhaustive statistics on the performance of your SIM-cards. With GoAntiFraud, you can use your GSM gateways with 100% productivity.