In the African country Zambia one would have every chance to earn on voice traffic termination, because there is a fairly good average rate ($0.08 to $0.12 per minute of call) and a developed cellular communication services market. But before locating your equipment in Zambia, you need to make sure that the country has a stable Internet to operate the gateways.
Zambia is a landlocked country, but local consumers have recently gained access to international underwater fiber optic cables. Currently, the broadband penetration rate is 21% (3.57 million) and the forecast is that it will grow in the coming years. Fiber-optic networks are expanding in Zambia nowadays, as well as broadband WiMax networks, which allows the local residents to enjoy stable and high-speed Internet.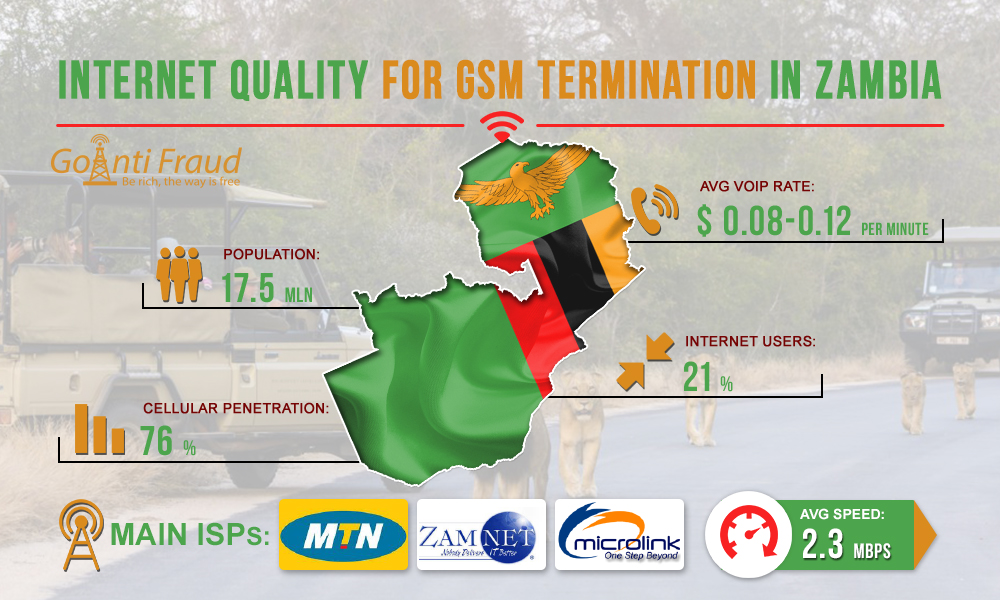 The main Internet providers in the country include MTN Zambia, Zamnet, Microlink. As for the average Internet speed, Zambia ranks 8th among the African countries with the fastest Internet (the rating of 2017). An average Internet speed in the country is 2.45 Mbps. In the overall world ranking, Zambia ranks 106th in this parameter.
The Internet speed in Zambia is fast enough for normal operation of gsm voip gateway asterisk or other VoIP equipment on a small number of channels. Try to place the gateways in different locations, so that the minimum number of channels is concentrated in one place. Also, do not load all the equipment ports at once or this will lead to quick blocking of SIM cards by AntiFraud systems.