The West African country Togo has a fairly good mobile penetration rate from VoIP traffic termination point of view. It constitutes 66% (more than 5.02 million), with a population being 7.9 millions of people. Average rate in the country is $0.07 to $0.16 per minute of conversation. These are excellent prerequisites for successful earning on termination.
At the moment, there are two mobile operators in Togo:
Togocel (2.7 mln);
Moov (1.6 mln).
Since 2011, registration of prepaid SIM cards is a legislative requirement in Togo. However, you can apply to street vendors who will not require you ID. Prices for SIM-cards vary depending on the type of start plan and the operator. On an average, the cost of a card is about $0.4 to $0.9.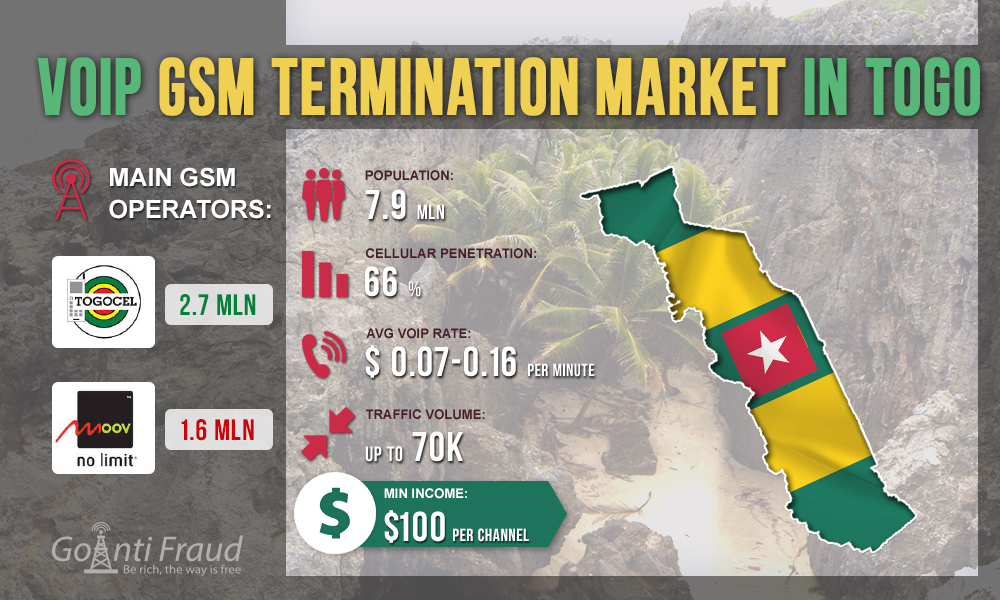 As you can see, start plans in Togo are very cheap, which minimizes your expenses for buying the new ones. At the same time, local mobile communication in the country is inexpensive, which allows you make maximum money from the difference between the cost of international and local calls. With average voip call rates south africa being about $0.07to $0.16, the minimum income of the terminator in Togo is $100 from one port of equipment. The more channels you involve, the higher your income will be.
Pretty large volume of international voice traffic is concentrated in Togo and you can earn on landing it. The main thing to remember about is a reliable masking of SIM-cards from antifraud systems. Minimize the SIM-blocking by using proven software tools from GoAntiFraud service. Terminate efficiently!