Demand for termination in Saudi Arabia is definitely growing. The country has a perfectly developed mobile communication, with only desert areas not covered. Accordingly, VoIP GSM gateways enjoy an increasing popularity.
Speaking of Saudi Arabia, there is an opportunity to give stable routes for both CLI and non-CLI calls. Moreover, due to the rapid growth of the country and a large number of foreign workers, the traffic volume for GSM termination keeps increasing. To date, it varies from around 65k to 100k minutes a month provided by one originator.
It's no secret that every terminator dreams of his SIM-card functioning as long as possible, with no SIM-card locked. At the same time, it is possible to obtain excellent profits using one SIM-card. To achieve this goal, GoIP gateways can be easily connected to GoAntiFraud. Its system takes into account all the parameters of humanity and disguise the card from the operator's SIM-lock.
Depending on the choice of a GSM-operator, price per minute ranges from $0.04 to $ 0.13 in Saudi Arabia. Also, the geographical destination of a call affects the pricing of terminated traffic. For example, the average cost via Atheeb Wimax is $0.0502. At the same time, in the capital Riyadh it amounts to $0.0557. 1 minute via Virginmobile costs $0.14, while Lebara offers $0.087. STC proposes $0.13 a minute.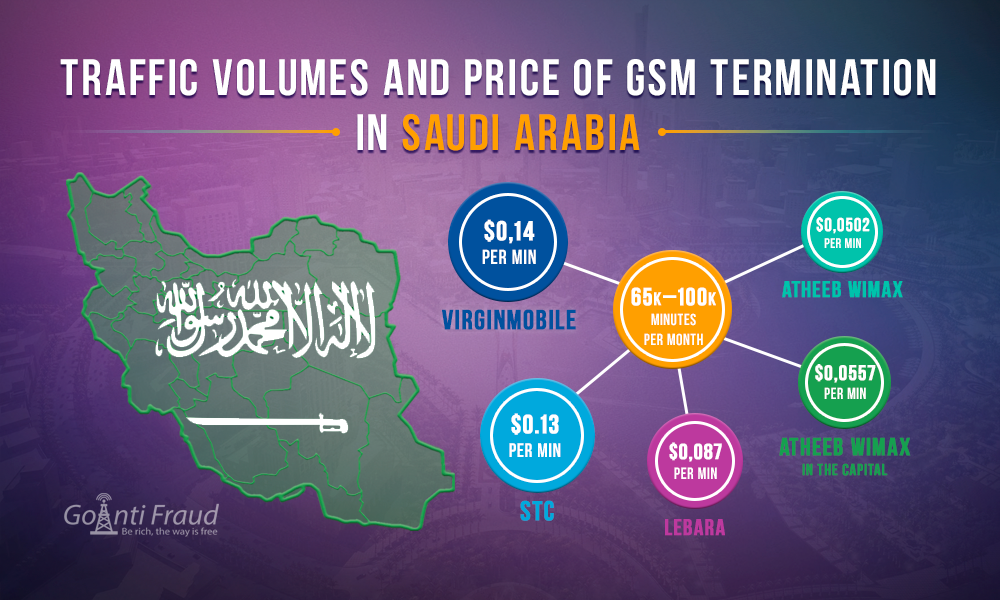 When taking into account the volume, it is important, what kind of equipment for VoIP is installed. In the case of Saudi Arabia, VoIP GSM GoIP gateways are in demand. They can be purchased freely throughout the country and using a proper configuration of AntiFraud system, the GoIP termination will cost much cheaper.
GoantiFraud is the integrated solution simplifies the VoIP-system maintenance for customers. For example, it provides the database and minute counters. There are functions for traffic separation, which allows saving on calls significantly. The service system can make all required further adjustments based on the statistics. The equipment is controlled remotely and accessible from any device, including mobile iOS and Android. Collaboration of GoIP and GoAntiFroud is the best tandem to turn excellent profits when terminating in Saudi Arabia.
More about internet-providers for termination in Saudi Arabia here.