Setar is the second cellular service provider in Aruba after Digicel, the leader of the mobile sector. It has excellent coverage throughout the country, Setar services are used not only by local residents, but also by numerous tourists. You can use the operator's start plans for a profitable business in VoIP termination.
Prepaid SIM cards from Setar are sold in many outlets, the cost of one plan is about $19. This is very expensive, and the standard rates for local calls are high - $0.4 per minute in the daytime and $0.2 per minute at night. But Setar has a lot of profitable plans that allow significant savings. For example, Prepaid Combi Bundles bonus range, which includes 4 tariff plans:
300 min. The subscriber gets 300 minutes for calls at $4.4.
1200 min. The subscriber gets 1200 minutes for calls at $16.7.
2000 min. The subscriber gets 2000 minutes for calls at $25.
3000 min. The subscriber gets 3000 minutes for calls at $41.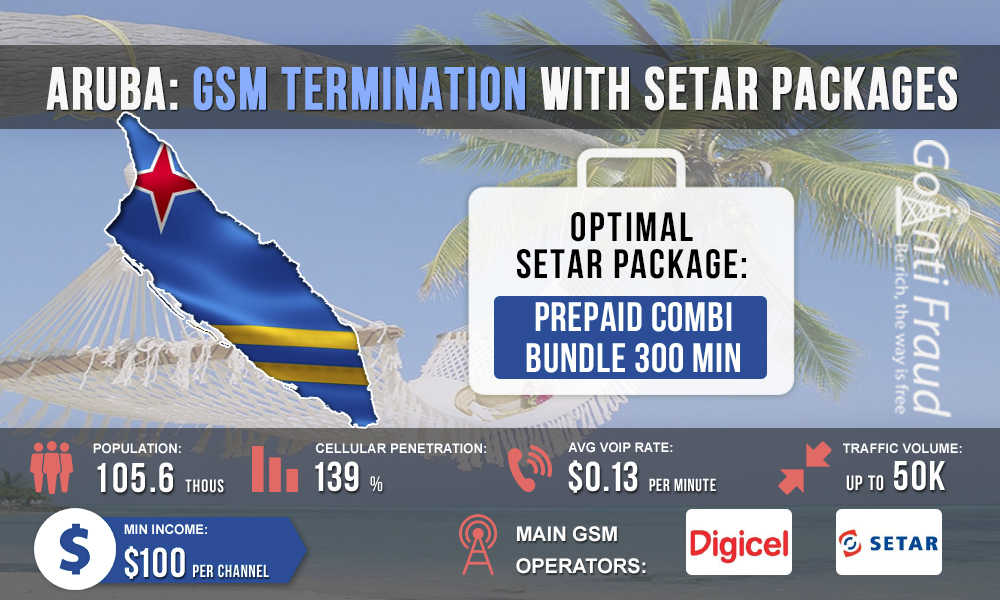 The best choice for voice termination will be the tariff plan Prepaid Combi Bundle 300 min. This plan provides for the number of bonus minutes, which will be just enough for termination using the gsm network gateway before the SIM card is blocked. In addition, with this tariff plan, the cost of a minute of an outgoing call is only $0.01. Thus, the terminator will receive a profit of $300 from one gateway channel, terminating for 5 hours a day (taking into account the cost of new cards). The more equipment you use, the higher your regular income will be.