As you know, an important point when choosing a SIM-card for the VoIP GSM termination is the number of subscribers in the operator base. The larger the number, the greater the chance that you will terminate calls using cheap on-net tariffs.
STC (Saudi Telecom) has the largest number of subscribers in Saudi Arabia - 19,914 million, followed by Zain (9.007 million) and Bravo (0,196 million). Virgin Mobile and KSA Lebara has a lesser subscriber base. However, mobile operators Mobile Mobily and Zain enjoy the demand for termination. This is easily explained by the very low price for a minute of conversation these operators propose.
Therefore, you should evaluate using the "price per minute" parameter for VoIP GSM termination. Mobile operators offer plenty of packages. Among them, the most advantageous are Free Lebara, Business Sawa Service (STC), Zain Max and Kareeb Package from Zain company.
GoAntiFraud is designed for those who are engaged in GSM termination. You can connect your equipment to our service and increase profits of your business in the first months of work! We also offer packages for beginners NewBusiness , which include sets of GoIP equipment by EjoinTech & ChinaSkyline, necessary for a successful start.
To connect Free Lebara, you should top up your account with any amount you like, with the operator adding free minutes. Topping up the package for $ 26.67 a week is most advantageous, so that you have free 30 minutes. In this case, the conversation via Lebara will cost as little as $0.0008 a minute.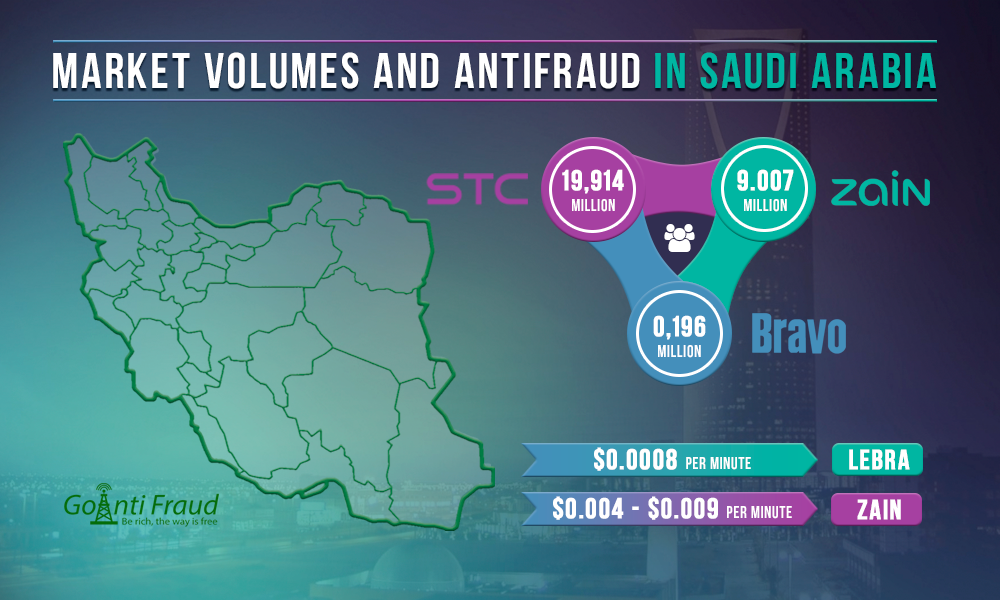 Packages Business Sawa Service and Zain Max could be of interest, as they provide a terminator with unlimited minutes and bonuses to call any numbers, with a minute of the call to cost from $0.004 to $0.009. It all depends on the service life of a SIM-card within the network.
All the conditions that these packages propose are most favorable for the termination. Using them, you can make a lot of calls without limitation in the number and time. And, then, operators' suspicions about a fraud will be negligible. The only thing a terminator should do is buy GoIP 8 to start making money.
The equipment makes it possible to manage the VoIP system remotely. The devices can be installed in different cities. In addition, you should not relocate them across the country, as many terminators do. By connecting the SIM-bank, you can automatically top up and change SIM-cards. In order to computerize operations with SIM-cards, you can also resort to the opportunities that GoAntiFraud offers, which perfectly simulate the behavior of a person in the network and can independently top up SIM-cards. As a result, it will be difficult for the operator to suspect the terminator, who has connected the GSM VoIP gateway to GoAntiFraud, of a fraud.
More about tariff packages STC in Saudi Arabia here.
Start a GSM termination business with GoAntiFraud! We provide a comprehensive solution that helps avoid mass blocking of SIM-cards and provide 100% efficiency of your equipment. The service is compatible with GSM gateways and SIM-banks from GoIP, EjoinTech & ChinaSkyline, and Topex.