Dominica is an island in the Caribbean Sea with a population of about 74.3 thousand people. Despite the small population, a large volume of international voice traffic is concentrated in Dominica: the country attracts numerous tourists with such tourist destinations as Boiling Lake, Trafalgar waterfalls, narrow Titou Gorge and luxurious botanical gardens in the capital Roseau.
Mobile penetration in the country has reached 153% (more than 111.9 thousand connections). Many locals use two SIM cards. The mobile communications market is represented by two operators, who often work on small islands in the Caribbean: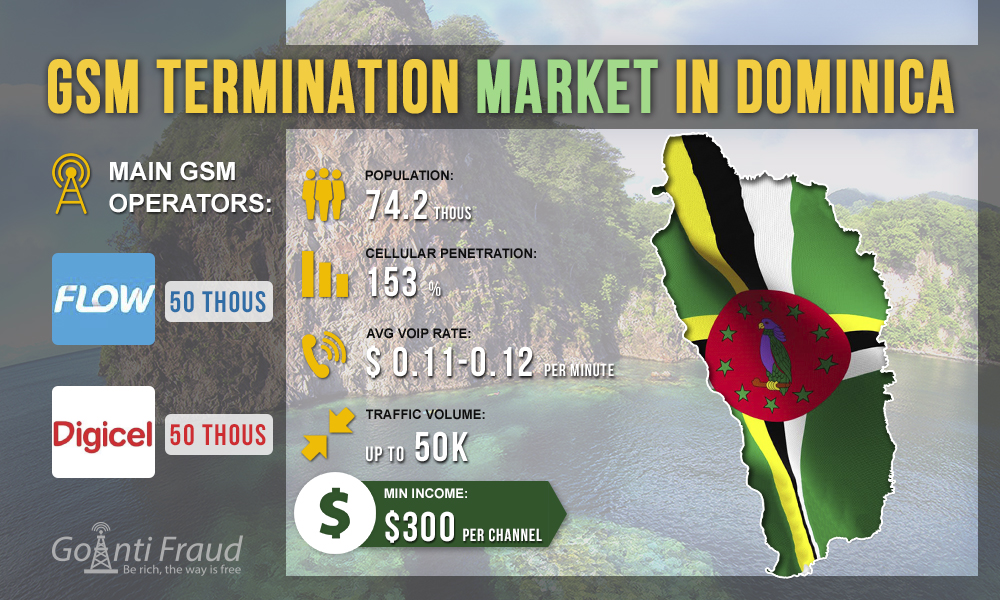 At the moment, each of these two cellular service providers owns 50% of the market, although Digicel appeared in Dominica only in 2016. Notably, Flow was a monopolist in the local mobile sector before. Both operators have good GSM coverage, especially along the coast.
SIM-cards are sold not only in the branded stores of cellular operators, but also in grocery stores. The cost of one start plans is about $9. The standard tariff for calls for prepaid customers is high - $0.26 per minute, but there are profitable prepaid plans, within which the cost of a minute of call can be reduced up to $ 0.004.
With average voip mobile call rates in the direction of Dominica being $0.11- $0.12, you get a chance to earn a minimum of $300 from each VoIP equipment channel (terminating approximately 300 minutes per day, including the cost of buying the SIM cards).