Digicel is the second of two cellular service providers who provide their services in Dominica. It began operations in 2003 to put an end to the monopoly of Flow, as in many other states in the Caribbean. Now they own about half of all connections on the island. Choose a profitable plan to use Digicel cards for operations in the VoIP traffic termination field.
The cost of one Digicel SIM-card in Dominica is $ 9.25. Start plans can be bought in the cities of Roseau and Marigot, but to buy them you need to show your ID. It is better to find street vendors who will sell you Sim cards in large amounts. Top-up vouchers are sold all throughout the island.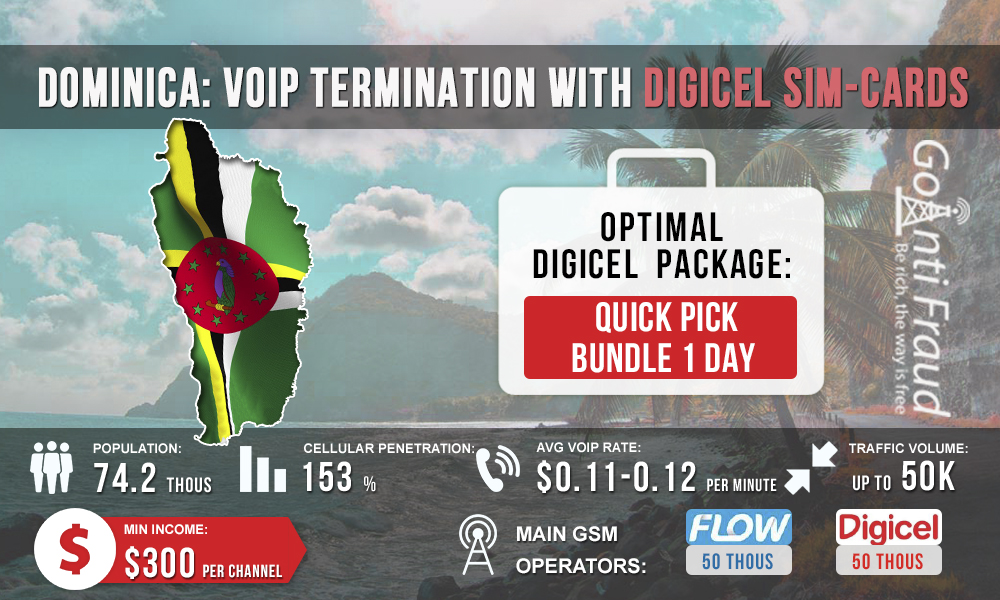 The standard per-minute cost of a local call for subscribers who use prepaid services is $0.26. This is very expensive for termination, but there are several plans with favorable terms:
Prepaid Bundles — Unlimited Talk. Provides unlimited calls within the network, duration - 7 days. The cost of this plan is $5.55.
The Quickie. Designed for 1 hour, unlimited within Digicel. The cost of this plan is $0.37.
Quick Pick Bundles. This series of plans includes 3 options: 30 days, 7 days, 1 day. The 30 days plan is valid for one month, unlimited in the Digicel network and costs $ 22. 7 days plan is valid for one week, unlimited within the network and costs $7.4. Tariff plan 1 day is valid for one day, unlimited within the network and costs $1.3.
If you locate gateways and voip routing software in Dominica, use the Quick Pick Bundle 1 day plan for outgoing calls. It is designed for one day, so you will have time to enjoy the opportunities of the tariff plan before the SIM card is locked by the anti-fraud system. The minute of the call with this plan will cost about $0.004. Terminating 300 minutes a day, you will earn around $400 from each port.