There is a good Internet coverage within the territory of Anguilla, VDSL and Fiber-Optic connection is available. Two providers, Digicel and Flow, compete in the market of Internet services. We will tell you about the prices for the services of these providers, so that you can choose the most profitable Internet plan for operating in the field of voice termination.
Flow provides broadband Internet access services using VDSL technology. The range of packages is called Superfast and consists of several options:
Superfast 6. Speed - up to 6 Mbit/s, price - $46 per month.
Superfast 12. Speed - up to 10 Mbit/s, cost - $66 per month.
Superfast 24. Speed - up to 24 Mbit/s, price - $250 per month.
Superfast 48. Speed - up to 48 Mbit/s, cost - $350 per month.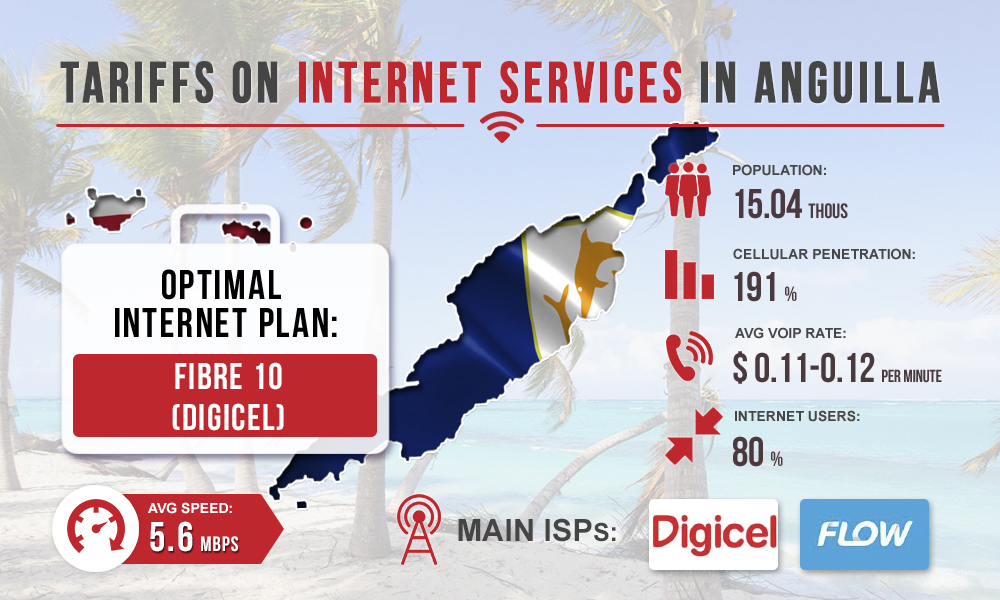 Digicel offers fiber optic Internet in the framework of 4 packages:
Fibre 10. Speed - up to 10 Mbit/s, price - $48 per month.
Fibre 25. Speed - up to 25 Mbit/s, cost - $100 per month.
Fibre 50. Speed - up to 50 Mbit/s, price - $148 per month.
Fibre 100. Speed - up to 100 Mbit/s, cost - $203 per month.
As you can see, both expensive and quite affordable Internet plans are available in the market. For uninterrupted operation of gsm gateway device with a small number of channels, you will be fine with a speed up of to 10 Mbit/s. Therefore, the best choice for you will be the Internet package Fibre 10 from Digicel, which will cost $48 a month. With your earning being $150 from each port of equipment, such costs would be quite acceptable. Moreover, fiber-optic Internet is considered the most stable, which is very important for effective termination (with unstable signal you'll have a lot of short and "zero" calls).