The small island state of Dominica is an attractive destination for earning money on termination. With an average rate of $0.11- $0.12 per minute, the country generates a lot of international traffic, and the mobile sector is in the stage of active development. All we have to do now is to assess the situation with the connection to the Internet in Dominica.
Internet penetration in Dominica today has reached 68%, which is about 49.4 thousand Internet connections. There are two service providers operating on the market, who are also competitors in the sphere of cellular communication services - Flow and Digicel. Both provide possibility to connect to high-speed Internet.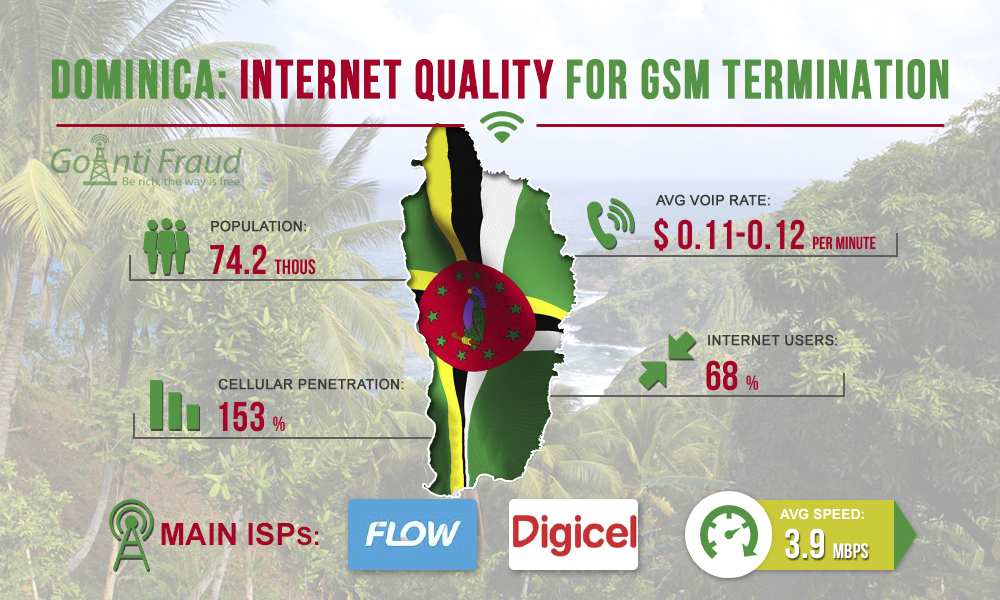 The provider named Flow provides access to fiber optic technology, which is considered the best solution to date. Fiber-optic Internet is fast and stable, which is very important for earning on landing of calls. In turn, Digicel offers to connect to a high-speed wireless Internet, which also can be excellent for a profitable termination.
The average Internet speed in Dominica is 3.9 Mbps (as of 2017). This is a good indicator, because this speed is good enough for stable operation of gsm gateway on rent without interruption of communications (for the operation of a small number of channels). Moreover, this is only an average rate, in fact, in large cities of the country, the Internet is available at speeds up to 150 Mbps. If you plan to work in an area where there is a bad internet signal - use the SBO Optimization module from GoAntiFraud - it will improve the network bandwidth.